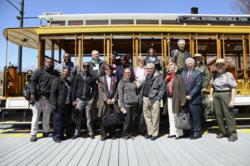 The Pullman Partners, literally take a line from labor leader A. Philip Randolph's quote
"you can't take anything without organization."
Chicago, IL (PRWEB) May 06, 2013
"At the banquet table of nature, there are no reserved seats. You get what you can take, and you keep what you can hold. If you can't take anything, you won't get anything, and if you can't hold anything, you won't keep anything. And you can't take anything without organization."– A. Philip Randolph
Following Randolph's ideology is exactly what the group known as "The Pullman Partners" from Chicago, Illinois did on their recent trip to Massachusetts. Last week, the coalition led by National Parks Conservation Association (NPCA) traveled to Lowell National Historical Park in Massachusetts. The group traveled to see some of the possibilities that could manifest for Pullman should the community gets the nod from the National Park Service (NPS). Coalition members are: the A. Philip Randolph Pullman Porter Museum (http://www.aprpullmanportermuseum.org/), The Center for Black Labor Research, the Historic Pullman foundation, the Pullman Civic organization, Art Space, the Pullman State Historic Site, the Illinois Historic Preservation Agency and the City of Chicago.
For more than 30 years, the people of Lowell have worked to preserve and have perfected interpreting the history of this New England mill town, once known for its immigrant laborers. Similarly, since the 1960's stakeholder organizations at Pullman have worked tirelessly along those same lines, each organization interpreting Pullman from its own perspective, representing the individual niche that organization brings to the story.
"I am humbled and excited about the possibilities that being designated as a National Park Site site can bring to our community," says David Peterson, president of the A Philip Randolph Pullman Porter Museum. APRPPM is the only museum in the nation, dedicated exclusively to the Black Labor History story, is a member of the Pullman Partners coalition. "To have the opportunity to share and interpret the black labor history story to a national audience will be fantastic."
"In the spirit of A. Philip Randolph's quote, the decision to organize and work together on this initiative is critical to a successful outcome, one that will be life changing for the entire community," said Dr. Lyn Hughes, founder of the A. Philip Randolph Pullman Porter Museum. "For two decades, I have worked to grasp the allusive unity required to make Pullman a successful tourist destination. My vision is to have something to offer for every visitor. The Pullman Partners is the kind of collaboration that has always been my vision. Perhaps I was ahead of my time. To see it unfolding is a moving experience."