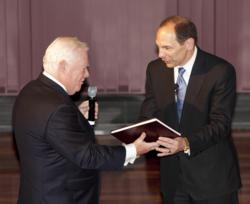 The likelihood of any one company being ranked the #1 Best Company for Leaders two years in a row is greater than one thousand to one.
Dayton, OH (PRWEB) May 13, 2013
For the second year in a row, Chally Group Worldwide and Chief Executive Magazine have named Procter & Gamble the best overall company for leadership development in the list of "40 Best Companies for Leaders 2013", a feature in the January/February 2013 issue. Chally Chairman Howard Stevens presented the award to P&G Chairman Bob McDonald at an event hosted by Merrill Lynch Wealth Management on May 9, 2013 at the National Underground Railroad Freedom Center in Cincinnati, Ohio.
Chairman Stevens had this to say, "For perspective, consider that the likelihood of any one company being ranked the #1 Best Company for Leaders two years in a row, by our actuarial standards, is greater than one thousand to one."
Stevens continued, "Research for the Global Leadership Study uses multiple criteria including:

The presence and quality of formal leadership development initiatives
The commitment level of the CEO to the leadership development program
The number of companies who specifically target P&G to recruit executives for themselves
The long-term growth of market cap and shareholder value
The bottom line, however, is there hasn't been a company ranked number one for two years in a row in over a decade."
Learn more about the Chally Global Leadership Research Study.
About Chally Group Worldwide
A global sales and leadership potential, performance and talent measurement firm, Chally Group Worldwide provides its industry-leading research, predictive analytics and advisory services to clients across 60 countries. Chally assures that our customers have the information they need to grow sales and minimize risks associated with talent management decisions relating to selection, alignment, development and succession planning.
About Chief Executive
Chief Executive Group was founded in 1977 to create and foster opportunities for CEOs to share their experiences and expertise within a community of peers. It serves its CEO audience in a variety of media including print, in-person, and online, which in turn provides advertisers and sponsors multiple opportunities to develop long-term relationships at the Chief Executive level. In addition to publishing Chief Executive magazine and http://www.chiefexecutive.net, the Chief Executive Group brings CEOs together through its annual CEO2CEO Conference, open to C-suite executives, and its by-invitation-only CEO Roundtables, Symposiums, and Global Events.