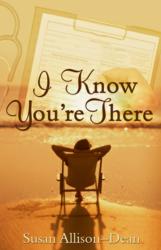 "Once you've been a nurse, you can do anything."
Armonk,NY (PRWEB) May 06, 2013
Author Susan Allison-Dean launches her debut novel, I Know You're There Monday, May 6 on National Nurses Day. May 6 is the start of National Nurses Week, which ends May 12, 2013, on the birthday of Florence Nightingale. National Nurses Week recognizes the contributions and commitments nurses make by educating the public about the significant work they perform. I Know You're There centers around a young nurse who escapes her life when she is surrounded by tragedy, loss and betrayal. It is only through the love of her dead mother, however, that can she heal the wounds of her past.
Sue Allison-Dean is a nurse who retired from traditional practice in 1999, after working 13 years as a wound, ostomy, continence clinical nurse specialist. She found a second career in gardening upon the completion of an organic gardening internship at Highgrove Garden in England. She now co-owns Naturescapes with her landscape designer husband, Robert. She has authored several clinical and horticulture articles and was a contributing author to the bestselling book, Touched By A Nurse. She is passionate about the sea and loves exploring tropical islands. She extends this passion by doing volunteer work benefitting dolphins and whales. Sue splits her time between Armonk, New York and Cary, North Carolina, with her husband and English bulldog, Bubba. 
Readers who love the novels of Anita Shreve, Alice Hoffman and Jodi Picoult will also enjoy I Know You're There for its memorable characters and conflicts blended with an essence of the spirituality. Says Susan Allison-Dean, "I wanted to create a book that showed a positive view of nursing; that nurses are caring people, but that they are also people who are doing the best they can every day."
About the Novel:
Jill Bradley is a dedicated and talented 23-year-old nurse living near New York City and seems to have it all: a handsome and hardworking boyfriend, a fulfilling career and great friends. But it all changes one night when Jill has to work a double shift at the hospital. She falls asleep at the wheel and accidentally hits a car on its way to the hospital: with a mother, father, and unborn baby in it. After Jill wakes up from her coma, she learns the parents died, but the baby lived. If this wasn't enough, during her recovery at her parents' home she finds out they have been keeping secrets—some for a long time. Not wanting to stay one more moment in New York over New Year's, Jill hops on a plane to a tiny Caribbean island, hoping to escape.  She temporarily leaves her worries behind and finds a new love who introduces to the water. But she finds her problems have also packed a suitcase.
I Know You're There is available for $13.99 in Trade Paperback, $4.99 as an e-book at Amazon, B&N, Smashwords, CreateSpace and most e-reader distributors. It is available for purchase to libraries.
Learn more about Susan Allison-Dean at http://www.SusanAllisonDean.com
***
Media Contact:
office:    512-493-0909
mobile:  512-797-4054
twitter: @heidiajohnson
email:    heidi(at)formativecom(dot)com