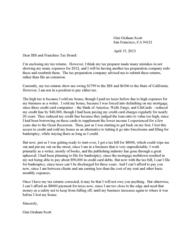 Millions of once successful individuals are struggling and facing ruinous tax bills based on their past success.
San Francisco, CA (PRWEB) May 06, 2013
Two weeks after founding the Forgive Our Taxes campaign to seek a bill forgiving the taxes of once successful people who are now struggling after selling their homes to avoid a foreclosure or bankruptcy or losing their jobs or businesses, Gini Graham Scott has gained growing support for the campaign. She has begun meeting with government officials to gain their support for legislation to change the tax and bankruptcy laws to help formerly middle class individuals and families who are now struggling. She has gained nearly 50 supporters in three days on her Forgive Our Taxes Facebook page. She has also set up a campaign website and a Forgive Our Taxes Meetup group
to have meetings about the issue and organize activities to contact government officials and coordinate rallies for the cause around the country.
Scott was inspired to create the organization after she got a huge tax bill after she sold her house rather than face a foreclosure and bankruptcy. She got the unexpected tax bill because taxes are not based on sale proceeds, but on the difference between a home's sales price and its original purchase price, less the cost of the sale. She then sent a letter to the IRS and California Tax Board explaining why she couldn't pay the tax bill, which arrived as she was struggling to get back on her feet and start again, because of the unpredictable nature of her business as a writer and independent film producer. As she explained in her letter:
"Now with the tax bill, I can't file for bankruptcy, since taxes can't be discharged for three years. And I can't afford to pay you now, since I am between clients and am earning less than the cost of my rent and other basic monthly expenses…I need that money as a safety net to keep from falling off, until my business increases again to where it was before I lost my house."
She started the campaign after realizing that millions of other former homeowners and other once successful employees and business people were in a similar situation – getting an IRS and state tax bill based on their past success, but now they couldn't afford to pay these bills or discharge them like other debts in a bankruptcy. Instead, they are caught in a limbo for three years with these tax bills that could ruin them hanging over their heads. She felt it an unfair situation calling out for a solution – which could simply involve making a few changes in the tax and bankruptcy codes. The Forgive Our Taxes campaign is dedicated to getting legislation passed to make those changes.
Now the new campaign seems to have struck a chord with many supporters, who have joined the Facebook page, have written to Scott, or are expected to join the Forgive Our Taxes Meetup group when it launches on Monday, May 6.
Since facing the mortgage meltdown, Scott has become something of an expert on the foreclosure mess and related issues. She describes her experience in dealing with the mortgage mess is described in her book: Living in Limbo: From the End to New Beginnings
The crisis also inspired a series of short documentaries: Middle Class Homeless: Families in Trouble and Middle Class Homeless: The Crisis, as well as two music videos Bad, Bad Banks and Credit Card Rap.
She also just completed filming a short film called The Suicide Party, which is about a once successful salesman who is about to lose his house and everything he holds dear. But he decides to have a "suicide party," where he'll either gain enough money to save his house and get back on his feet or he'll quietly end it all, leading to a media frenzy and unexpected results. The film will debut at the Castro Theater on July 6th, and then be submitted to festivals.
Gini Graham Scott is the founder of Changemakers Publishing and Writing Besides publishing over 30 books through Changemakers Publishing, the company helps others write, publish, and promote their own books. Scott received a PhD in Sociology from the University of California in Berkeley, a JD from the University of San Francisco Law School, and MAs in Anthropology, Mass Communications and Organizational/Consumer/Audience Behavior and Popular Culture and Lifestyles at California State University, East Bay. She is getting an additional MS in Recreation and Tourism in 2013. She has spoken about the topics of her books to many groups and the media, including appearances on Good Morning America, Oprah, and CNN.