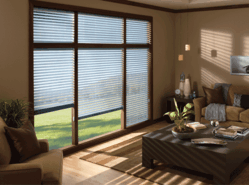 Smart Privacy Blinds from Norman Window Fashions is the newest innovation for making blinds better for consumers.
mbia, Manitoba,Quebec,New Brunswick, Prince Edward Island, Saskatchewan, Newfoundland and Labrador (PRWEB) May 13, 2013
Alberta, British Colu The new SmartPrivacy blinds from Norman® Window Fashions are the market's most innovative blinds. They are designed to provide better privacy while remaining elegant and affordable.
The difference between a Smart Privacy and a contemporary blind is light filtration and privacy. Most blinds allow slits of light through the gaps in the route holes on the slats. SmartPrivacy blinds are specifically designed to not have any slits, and therefore light leaks through. The larger slits used to weave the blinds are reduced to small wedges on the side of the slats for Smart Privacy Blinds. This technique reduces waste and increases the blind's efficiency to provide complete cover from light.
Some of the other improvements include increased durability to harsher light and temperatures. For customers with light sensitive decor, such as oil paintings or hard wood floors, these blinds offer better light manipulation, complete coverage, and UV protection. Also, Smart Privacy blinds provide better insulation, making homes energy efficient and eco-friendly.
Through innovation, quality, and discounts, Zebrablinds strives to provide clients beautiful, cheap blinds like the Smart Privacy blinds. Given the new taxes throughout Canada, customers from across the country can save up to an additional 8% in some provinces by purchasing through Zebrablinds. Zebrablinds is a company based in Ontario. PST does not apply to customers residing in other provinces, who purchase Smart Privacy blinds and other products from Zebrablinds. Shipping is always free except for oversize packages. Check out zebrablinds.ca for the best options in window treatments.