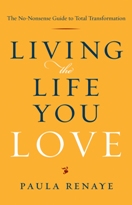 winning the IPPY Gold Medal is proof that Living the Life You Love's no-nonsense compassionate tough-love approach is striking a strong chord
Hot Springs, Arkansas (PRWEB) May 08, 2013
Tough Love Coach Paula Renaye's acclaimed personal transformation book, Living the Life You Love: The No-Nonsense Guide to Total Transformation, published by Diomo Books, has been named the winner of the 2013 "IPPY" Gold Medal for Self Help. Gold, Silver and Bronze medal winners were selected from over 5,200 entries in the 17th Annual Independent Publisher Book Awards contest.
"Independent publishers are growing in number, and the quality of their work is increasing," said awards director Jim Barnes. "One element driving the high rate of excellence is participation from university presses. Their elevated level of writing, editing, design and production raises the bar and inspires us all."
Diomo Books Publicity and Events Director, Jami Jones, says, "With so many self-help, inspirational and motivational books on the market, winning the IPPY Gold Medal is proof that Living the Life You Love's no-nonsense compassionate tough-love approach is striking a strong chord with readers."
Author Paula Renaye agrees. "More than ever, people are realizing they don't have to settle," she says. "They know quick-fix promises and feel-good escapes don't work and they're ready for more." Renaye says that's where her book comes in, providing a straightforward, no-fluff, how-to template, one she has put to use in her own life. "I had to do the tough work--there was no shortcut around it. In fact," she says, "doing the tough work was the shortcut."
Living the Life You Love has also been named to Kirkus Reviews' Best of 2012 and is recommended by therapists, social workers, chiropractors, addiction specialists and other mental health and medical professionals with endorsements such as "All the benefits of serious therapy in one book." In a starred review, Kirkus Reviews says, "She calls her methods tough love, but they're also deeply human, compassionate and supportive."
Renaye's book will be honored at 17th Annual IPPY Awards ceremony Wednesday, May 29th in New York on the eve of the annual BookExpo America convention. "I am deeply honored to receive this prestigious industry award," says Renaye, "Now, I can forever say that Living the Life You Love won IPPY Gold!"
The "IPPY" Awards are a broad-based, unaffiliated awards program open to all members of the independent publishing industry, and are open to authors and publishers worldwide who produce books written in English and intended for the North American market. "Independent" is defined as 1) independently owned and operated; 2) operated by a foundation or university; or 3) long-time independents that became incorporated but operate autonomously and publish fewer than 50 titles a year.
The full list of 2013 IPPY winners in the self-help category are:

Gold: Living the Life You Love: The No-Nonsense Guide to Total Transformation, by Paula Renaye (Diomo Books)
Silver (tie): Mindfulness for Beginners, by Jon Kabat-Zinn (Sounds True, Inc.) and The 5 Elements of Effective Thinking, by Edward B. Burger & Michael Starbird (Princeton University Press)
Bronze: 30 Days to Better Thinking and Better Living Through Critical Thinking, by Dr. Linda Elder and Dr. Richard Paul (FT Press)
* * *
ABOUT
Diomo Books is a small independent publisher of award-winning fiction and nonfiction established in 1999.
Paula Renaye is a tough love media expert, certified professional coach, empowerment speaker and award-winning author. To learn more about Paula Renaye's work and read her articles and tips, visit http://www.ToughLoveTalk.com.
Living the Life You Love: The No-Nonsense Guide to Total Transformation by Paula Renaye is available at neighborhood and online bookstores in both paperback and digital formats.
Trade Paperback • 5 ½ x 8 ½ • 288 pages • $15.95
Paperback ISBN: 978-0-9674786-9-2 • eBook ISBN: 978-0-9674786-8-5
Distributed in the US, Canada, Australia and the UK by SCB Distributors.
Also now available in Spanish and Chinese language translations.