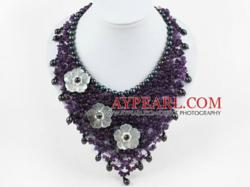 Handmade Jewelry With Big Discounts At Aypearl.com Now
(PRWEB) May 08, 2013
Aypearl.com is a well-known wholesale jewelry website offering various kinds of handmade jewelry. Today, the company announces great discounts on all its jewelry, up to 20% off.
At Aypearl.com, ladies can find more than 10000 items of elegant handmade jewelry easily, which are popular for the high-quality material and delicate craftsmanship. Now, they are available at lower prices. Take one of the bib necklace ( named "Black Pearl and Amethyst and White Shell Flower Party Bib Necllace", item ID: X995) for example: It was previously priced at $38, and now offered at a new low price of $30.
Handmade jewelry is jewelry which has been assembled and formed by hand rather than through the use of machines. This means that jewelry may be made using drills, lathes, or other machinery, but it must be guided by the human hand. "All items on Aypearl.com are made by human hand, that's why our items are unique on the jewelry market. We are proud of our delicate craftsmanship, our designers can only begin to design jewelry after 5 years of training and exercise. " Said Zhang Yong, CEO of Aypearl.com .
Handmade jewelry items are very much in demand in the market and if they are well-designed and arty, people are ready to pay prices. There are more than 10000 styles of handmade jewelry on Aypearl.com, such as pearl jewelry, gemstone jewelry, crystal jewelry, shell jewelry, metal jewelry and so on.
About Aypearl.com
As the famous and leading china jewelry supplier, Aypearl values each customer's satisfaction and requirement. High quality, reasonable price, good customer service, fast shipping are good reasons for choosing Aypearl. There are more than 10000 styles of jewelry on Aypearl. Welcome to wholesale china jewelry from Aypearl.com .
More handmade jewelry information can be accessed at: http://www.aypearl.com/