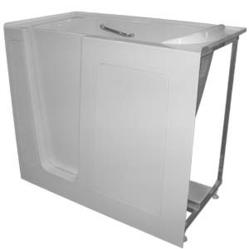 This sales event is a great time to get brand new walk in bathtubs and handicap showers.
New York, NY (PRWEB) May 06, 2013
A supplier of walk in bathtubs, Aging Safely, announces an overstock sales event on senior bathtubs and handicap shower systems. For this special promotion, the company will be offering customers deep discounts on several of the best walk in tub brands.
These specialty bathtubs for the elderly are designed with safety in mind. Several of the models come with a very low step in entry, textured flooring, built in seats, hydrotherapy and temperature control valves. Shoppers can additionally have safety grab bars installed internally where it best suits their specific needs.
The company also provides grab bars that can be installed outside of the walk in tub, transfer bathtub or handicap shower. Several of the grab bars are even designer, whereas customers can select safety grab bars that match their decor perfectly.
According to the company, for this special sales event most of the tubs that are being discounted are white or biscuit colored; however shoppers do have the option to have the colors to these unique walk in bathtubs and handicap showers customized. Customers can provide a swatch of color, which the company can accordingly match these specialty bathing products to.
Senior citizens are discovering the benefits of aging in place. Many of whom are taking full advantage of the many aging in place technologies such as hydrotherapy. Many of these devices are designed to make life easier or enhance safety. For the elderly, falls in the bathroom can be a serious problem. Adding some security and piece of mind into the bathroom with one of these unique fall prevention products can be an investment that is priceless.
The walk in bathtubs offered by Aging Safely also come with invigorating water and air hydrotherapy jets which can be a great feature for shoppers seeking natural ways to experience massage and hydro-therapy. The water jets are typically going to be more aggressive, whereas the air jets are much gentler to the skin. The senior bathtubs can come with air, water or dual jetting options. For more detailed information contact an Aging Safely representative for a no obligation consultation on walk in tubs, transfer bathtubs and handicap shower stalls.
Contact Information:
Zach Wennstedt
1-888-779-BATH(2284)
info(at)Agingsafelybaths(dot)com