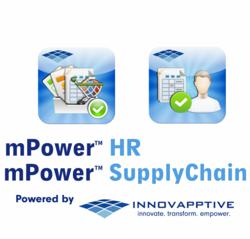 Over the next few months, Innovapptive is expected to release several such pre-packaged mobile apps for Sales, Finance, HR, Supply Chain and Field Services.
Houston, TX (PRWEB) May 08, 2013
Innovapptive Inc., an SAP certified® partner and a SAP Mobile Apps Partner, announced the release of two additional SAP certified® mobile apps to their mPower ™ suite. These mobile apps provide SAP customers with the capability to universally approve or reject all their SAP workflow transactions and release purchase orders or purchase requisitions. The mWorklist ™ and mRelease ™ apps are delivered as part of Innovapptive's mPower ™ HR and mPower ™ Supply Chain suite. Both the SAP certified® mobile apps are now available on Apple itunes, Google Play and the SAP Mobile App Store. These and other mobile apps will be demonstrated at Sapphire Now and ASUG Annual conference, at the SAP Mobile Pavilion and at Innovapptive's booth located at 2621a.
The release of these mobile apps demonstrates Innovapptive's capability to think "out-of-the-box" and truly understand customer pain points to provide a commercially viable mobile solution. Over the next few months, Innovapptive is expected to release such pre-packaged mobile apps for Sales, Finance, HR, Supply Chain and Field Services. The mPower ™ Apps Suite is rapidly growing and customers have a unique opportunity to sign up at an early stage to quickly mobilize their workforce and consume these mobile apps in the cloud.
"We saw a clear need to address customers' mobility pain points to toggle between separate mobile apps for each transaction approval. Mobile apps that are commercially available for approvals are transaction specific and cause customer frustration to toggle between these apps. Historically, companies built separate approval apps for various business transactions to reduce the complex navigation and provide a targeted experience. However, Innovapptive has addressed these challenges within the mWorklist app by providing simplified "Consumer app like" navigation for multiple transactions to intuitively drive managers to approve transactions," said Mr. Hari P. Kamineni, CEO and co-founder.
Innovapptive also released the SAP certified® mRelease ™ mobile app for employees and managers to release purchase orders and purchase requisitions. "We expect to see a dramatic change in customer mindset with the advent of such game changing pre-packaged mobile applications. We are confident that customers will start venturing into cost effective pre-packaged mobile app solutions to rapidly mobilize their workforce," said Mr. Sundeep V. Ravande, President & co-founder. Innovapptive's President and co-founder, Sundeep V. Ravande, highlighted in his blog, the company's vision of building the mPower ™ Apps Suite to resolve customer pain points to adopt pre-packaged mobile solutions.
Innovapptive will be showcasing these SAP certified® mobile apps and their entire portfolio at SAPPHIRE NOW and ASUG Annual conference. Visitors will have the opportunity to first-hand experience Innovapptive's SAP Certified® Mobile apps intuitive screens and simple flows that address critical and complex business processes, both at the SAP Mobile Pavilion as well as at their own booth (Booth# 2621a). Innovapptive will offer visitors to their booth a 30-day free trial to test-drive its SAP certified mobile apps on the cloud with demo data integration through demonstration systems.
About Innovapptive
Innovapptive Inc. is an SAP Certified partner specializing in several SAP Modules and SAP Mobility - development, consulting and staffing. Innovapptive provides a wide range of SAP product engineering and consulting services in SAP Mobile Apps, SAP MM, SAP SRM, E-Sourcing/CLM, SAP BI, SAP HANA and SAP FICO. Innovapptive's team of SAP professionals focuses on placing customers in the forefront by offering them game changing end-to-end solutions to maximize their ROI.