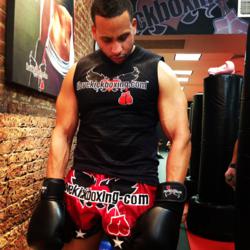 New York, NY (PRWEB) May 06, 2013
Recently, New York City resident and iLoveKickboxing.com member Emmanuel Ortiz went home with a $2,500 check from iLoveKickboxing.com's corporate headquarters. He won this money by referring 64 friends and family to the program, as part of the early 2013 National Referral Contest.
To compete, contestants referred friends, family, and anyone they could to register for an online trial at the iLoveKickboxing.com website. Whoever referred the most people per location won prizes within that location. The top 6 winners in the world received large cash prizes from corporate headquarters.
"It's really easy to refer people to the program," stated one iLoveKickboxing.com member. "I'm referring people all the time, I just love it, so this contest wasn't really a stretch!"
"The contest was a success on many levels," stated an executive at iLoveKickboxing.com. "For our members, they experienced lots of fun and camaraderie, and they got more of their friends and family involved in the program. Our franchisees experienced record-breaking enrollment numbers, helping them grow and flourish even more."
This marks just one of many contests the fitness franchise will run in 2013. Others include Facebook Profile Picture Contests, where contestants "sport" the iLoveKickboxing.com brand, and try to get more "Likes" than their fellow members, and the 45-Day Body Transformation Contest where contestants compete to transform their bodies, and minds, for 45 days.
About iLoveKickboxing.com: iLoveKickboxing.com is a fitness kickboxing franchise that takes the workouts of professional fighters, and makes them accessible for men and women looking to lose weight and tone muscle. Their program emphasizes community, fun and support for long-lasting results. Information on classes is available at http://ilovekickboxing.com. Information on the iLoveKickboxing.com franchise opportunity is available at http://myilovekickboxing.com.