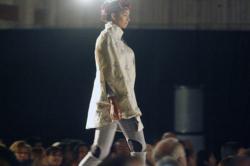 "My collection is about deliberate living and [a] celebration of nature." Alessandra Richards
Burbank, CA (PRWEB) May 07, 2013
Center Stage Studios, the industrial 1,000-seat capacity venue in downtown Los Angeles, was the closing destination of Woodbury University's 2013 "Neo-Tribes" fashion event, which showcased students' avant-garde design concepts. Unlike the VIP-only gala held on April 27 at the Natural History Museum, Thursday's showing welcomed the general public to experience artistry at its best.
At 7:00 P.M., doors opened to eager spectators hoping to grab the best seat in the house. Before guests made their way into the runway room, they were able to freshen up with a complimentary touch-up demo and product consultation with the Stila Cosmetics team. When guests and additional VIP attendees found their seats, Kathryn Hagen director of the fashion department at Woodbury University, announced the first collection onto the runway.
The Sophomore class kicked-off the show with street-smart swimsuit designs inspired by graffiti art and automotive graphics. Creative asymmetrical cuts and bold prints set a high-intensity tone for the start of the event, leaving the crowd in awe and hungry for more.
The Junior collection came through by satiating guests' appetite for fashion with standout pieces including a breathtaking array of evening wear and casual attire that skillfully foreshadowed next season's biggest trends. After the Junior presentation, the show shifted gears with its costume designs inspired by Bram Stoker's Dracula, which terrorized and tantalized guests with each act.
Finally, the highlight of the night – the Senior collection – made its way onto the runway floor. With each outfit strutting down the catwalk, the audience marveled at the expert stitching, keen attention to detail and clever use of materials that was proof of the quality mentoring students received from Woodbury's curriculum.
Alessandra Richards, senior fashion designer, fused athleticism and fashion into her Act'Keefe collection. Her futuristic winter wear is ideal for the independent, and active woman.
"I invite you to live deliberately," says Richards, "My collection is about deliberate living and [a] celebration of nature."
The closing ceremony consisted of a handful of awards recognizing designers in various categories for their skill and vision.
Now, the Woodbury University fashion department and its future senior class enthusiastically await next year's exciting production in support of leading Los Angeles' young talent into the fashion industry.
About Woodbury University
Founded in 1884, Woodbury University is an accredited institution located in Burbank, Calif. that offers prospective students an array of undergraduate degree options such as fashion design, fashion marketing, architecture and more. Their mission is to provide a creative and innovative curriculum to students, while fusing real-world experience into every program.