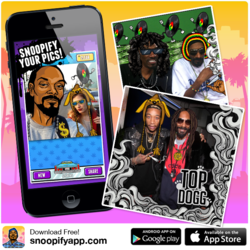 "I'm bringing that new flavor to social media with this app, ya dig?!"
(PRWEB) May 06, 2013
Today, Snoop Lion unveils his new sticker app called Snoopify. The app features a unique array of Snoop's iconic and latest Rastafarian-inspired stickers designed exclusively by Munk One, the world-renowned artist and illustrator for major label musicians and brands. Fans can choose from a collection of stickers to creatively "Snoopify" their photos and share instantly with friends online.
Over the years, Snoop Lion aka Snoop Dogg, has been a top influencer in the digital space, amassing more than 40 million fans across his various social platforms. His ability to stay at the forefront of popular culture and new technology has resulted in unwavering relevance. His celebrity has helped launch platforms, such as Instagram, which he singlehandedly helped catapult to another level as one of the first celebrities to use it. With the creation of Snoopify, Snoop Lion is creating his own photo experience for fans around the world to use and share on their social networks.
Snoopify App is free to download through the AppStore and Google Play on iOS and Android mobile devices and tablets.
Snoopify App features include:
+ Never-before-seen graphics of Snoop, ranging from classic Snoop Dogg to Rastafarian-inspired Snoop Lion looks and phrases
+ Ability to 'Snoopify' existing photos from Library and Camera, or create your own version of Snoop
+ Multi-touch technology
+ Easy sharing on Instagram, Twitter, Facebook and other apps
"Now that everyone is heavy on social media sharing photos, I wanted to create an app that would allow my fans to add fun visuals to their photos and Snoopify themselves," said Snoop Lion. "I'm bringing that new flavor to social media with this app, ya dig?!"
Download the app and check out the latest Snoopify photos at http://www.snoopifyapp.com.
Snoopify is a collaboration between Snoop Lion and Cashmere Agency, a digital lifestyle marketing company responsible for Snoop Lion's digital marketing strategy, and also Upper Playground and 99centbrains.
ABOUT SNOOP DOGG aka SNOOP LION
Snoop Dogg aka Snoop Lion is multi-platinum artist and entertainment icon. With over 20 years in the industry, Snoop's ability to stay at the forefront of popular culture and new technology through hit records, brand partnerships, innovative digital strategies, philanthropy and more has resulted in unwavering relevance. 
Most recently, Snoop has been making headlines with his upcoming REINCARNATED project and announcement of his new moniker, Snoop Lion - which has been the most controversial journey of a modern day icon. His spiritual awakening as Snoop Lion grew from his recent trip to Jamaica - where the Jamaican people and culture positively affected him. Snoop spent a significant amount of time in Jamaica recording his upcoming REINCARNATED album, which was also documented with a film of the same name. An official selection of the critically acclaimed Toronto International Film Festival, the highly anticipated VICE Films/Snoopadelic Films release, REINCARNATED, chronicles his illustrious career dating back to his beginnings and leading up to his spiritual awakening as Snoop Lion. 
REINCARNATED is a multifaceted project, which includes a reggae-influenced album executive produced by Diplo and Major Lazer, releasing in conjunction with Berhane Sound System,  Mad  Decent, VICE Music and RCA Records; a feature-length film; a photo book; and a self-sustainable gardening initiative named Mind Gardens. The REINCARNATED film hits select theaters nationwide on March 15 and the REINCARNATED album released on April 23.
For more information, visit http://www.snooplion.com.