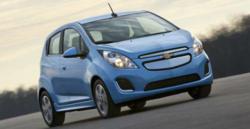 Chevrolet's Spark EV is rated 119 mpg-e by the EPA, and travels 82 miles per charge.
San Joses, CA (PRWEB) May 06, 2013
EPA Says Chevy Spark is Most Efficient Car
Chevrolet representatives have announced that the company's new Spark EV is the most fuel-efficient auto in the marketplace, with a 119 mpg-equivalent rating from the EPA and an 82-miles-per-charge electric range. The mpg-e number is a combined city/highway rating, while the electric range distance places the Spark EV ahead of many other mass-produced electric cars currently for sale. When the Spark EV arrives in dealer showrooms this July, it will only be available in Oregon and California. Specific pricing data is said to be forthcoming in several weeks, though GM has disclosed that after the $7,500 federal tax credit, buyers will be able to purchase a Spark EV for less than $25,000. For the complete story, see:
http://www.myperfectautomobile.com/featured/chevy-spark-ev-4.html
U.S. Gov't Will Buy 10,000 Hybrids
The U.S. government announced this week that it would add 10,000 hybrid vehicles to the federal fleet in an effort to cut fuel usage and reduce carbon emissions. According to estimates by the General Services Administration (GSA), the move will save about 1 million gallons of gasoline each year. The agency's acting administrator, Dan Tangherlini, said, "At a time when government needs to make every tax dollar count, GSA is committed to creating more energy efficiency and cost-saving opportunities like the fleet consolidation program that make government smarter and reduce our environmental footprint." For the complete story, see:
http://www.myperfectautomobile.com/volkswagen/gsa-hybrids.html
Electric Car Speed Record Up For Grabs
The third version of the world famous electric car, the Buckeye Bullet, will attempt to set an EV speed record within the next year. Ohio State University and Venturi are sponsoring a series of events in which numerous speed records are destined to fall. This newest iteration of the car, called the Venturi VBB-3, will try to break the 435-mph mark sometime next year. Before that, the team will shoot for 373 mph as a sort of warm up run at the Bonneville Salt Flats in Utah. For the complete story, see:
http://www.myperfectautomobile.com/racing-2/speed-record.html
About MyPerfectAutomobile:
MyPerfectAutomobile (MPA), a California-based news source for the hybrid, electric, and alternative-fuel transportation sector, covers breaking news on the green car front.
The MPA flagship website has grown into a major presence on the Internet. It features a complete shopping mall as well as a free-to-list classifieds section for all things green. For advertisers, MPA offers the chance to be in front of over 20,000 readers each month who are interested in hybrids and electric vehicles, as well as sustainable transportation in general.
Bob Twaalfhoven: President and Founder of MPA, is an MIT-educated engineer whose primary interest is planetary sustainability.
Larry Judkin, General Manger and Sales Coordinator, has tasked himself with taking MPA to the number-one spot among green transportation websites.
Contact MPA:
Box 18846
San Jose, Calif. 95158
For advertising opportunities, contact MPA directly:
Phone: 866-520-5558
Email: driven(at)myperfectautomobile(dot)com
Web: http://www.myperfectautomobile.com