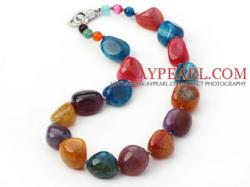 Aypearl Introduces Its New Agate Jewelry to Customers Worldwide
(PRWEB) May 10, 2013
Aypearl.com is a well-known wholesale jewelry website offering various kinds of handmade jewelry. Today, the company released many new styles of agate jewelry for May.
Agate is classed as a semi-precious stone and is a variety of chalcedony that is banded in different coloured layers. It is also a very finely grained gemstone and is found in many different colours, such as blue, green, brown, red and white. Blue and green are the most desirable colours as they tend to be rarer than the other colours. Agates are a microcrystalline form of quartz that are commonly used to make jewelry. Since these stones are quite common and relatively inexpensive, they are best suited for fashion jewelry.
The low price and the beauty of agate are important factors that have made this stone quite popular for fashion jewelry. Agates are found in great abundance in dozens of countries across the world. In oriental countries, agate is considered as one of the seven most precious treasure of Buddhism. According to the traditional of Buddhism, agate is used in making to amulet.
"Agate can be found in many places all over the world but the main countries where this natural stone are mined are China, India, Brazil. There is a huge selection of agate jewelry available for customers to choose from Aypearl.com, such as agate necklaces, agate bracelets, agate earrings, agate rings and so on," said Zhang Yong, CEO of Aypearl.com .
About Aypearl.com
As the famous and leading china jewelry supplier, Aypearl values each customer's satisfaction and requirement. High quality, reasonable price, good customer service, fast shipping are good reasons for choosing Aypearl. There are more than 10000 styles of jewelry on Aypearl. Welcome to wholesale china jewelry from Aypearl.com.
More agate jewelry information can be accessed at: http://www.aypearl.com/agate-jewelry/