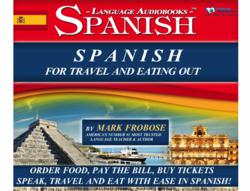 "Unlike Audible, With Language Audiobooks, If You Buy It, You Own It Without DRM" - Mark Frobose/President, Language Audiobooks Inc.
Champaign, IL (PRWEB) May 09, 2013
Language Audiobooks Founder and President Mark Frobose announced today that there will be no digital rights management (DRM) restrictions placed on any of his company's language downloads.
"Unlike Audible and other companies who sell language products, we don't believe in restricting the fair use of our language programs to just four computers," stated Frobose.
When asked about the protection DRM offers, Frobose went on to say that people deserve to own what they purchase and to use Language Audiobooks programs freely with their friends and relatives.
"As long as people don't try to sell our products and simply use them to increase language learning and cultural understanding between people and nations, then we're fine with that," he said in a press conference in Chicago last Friday after an interview on
Chicago's WGN Radio.
Frobose, who learned languages the hard way, has dedicated his entire life to simplifying and making language learning accessible to everyone.
His company, Language Audiobooks Inc., currently offers a variety of versatile language programs and downloads.
"Our goal is to get the message across that no big-business or publisher has cornered the market on language learning," stated Mark emphatically.
"Language learning is a natural human gift that we all share, and Language Audiobooks supports language learning in all of its forms."
Language Audiobooks has a website that currently offers no-cost audio language lessons and even a no-cost eBook.
The language lessons and eBook can be accessed by going to http://www.languageaudiobooks.com and clicking on the Free Lessons tab on the left.