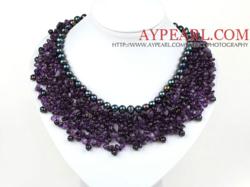 Amethyst Jewelry Sale for May 2013 Launched by Aypearl.com
(PRWEB) May 11, 2013
Aypearl.com, one famous wholesale jewelry website, announces its amethyst jewelry promotion for May. Thear are more than 300 different styles of amethyst jewelry on their website.
Amethyst is a member of the quartz family. In fact, it is the world's most valuable quartz gemstone. It is unique for its crystalline structure. Amethyst can be used to make attractive pendants, necklaces, rings, ear studs and bracelets.
Amethyst is the beloved birthstone for February. The name "amethyst" comes from the Greek word "amethystos" and it means "not drunken" .
"All the amethyst jewelry can be found at greatly discounted rates, " Said Zhang Yong, CEO of Aypearl company. "We hope customers like our amethyst jewelry."
About Aypearl.com
As the famous and leading china jewelry supplier, Aypearl values each customer's satisfaction and requirement. High quality, reasonable price, good customer service, fast shipping are good reasons for choosing Aypearl. There are more than 10000 styles of handmade jewelry on Aypearl. Welcome to wholesale china jewelry from Aypearl.com .
More amethyst jewelry information can be accessed at: http://www.aypearl.com/amethyst-jewelry/