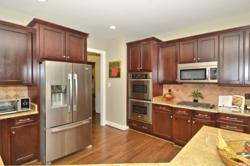 Germantown, MD (PRWEB) May 06, 2013
A growing segment of the homebuilding industry is working to win the hearts of one substantial demographic — women. According to consumer reports, women are the major influence in the purchase of 91% of all new homes. "Men and women look at houses differently," says James McCormack, Vice President of Sales & Marketing for award-winning new home builders in Maryland Advantage Homes. "Men often look at the bare bones, structural elements, while women look for functionality and features that will make everyday living easier or enhance their lifestyle in some way." With Mother's Day just a few days away, here are five things women look for when purchasing a new home:
1. A Functional Kitchen: When it comes to the kitchen, women want the very best countertops, floors, cabinets and appliances, especially if they're energy efficient. A survey by the National Association of Home Builders found that ENERGY STAR appliances are top of mind for new homebuyers. "Advantage Homes is committed to building 100% ENERGY STAR new homes in MD," McCormack says. "We've found that most buyers, especially women, are willing to pay more for higher-end kitchen appliances that promise energy savings."
2. Closet Space: With all the responsibilities of work, kids and more, female homeowners don't have time to waste searching for stuff they can't find. Women want closets and storage spaces that help manage their family's belongings. "After surveying the kitchen, many of our female homebuyers are quick to scope out the number and size of our closets," McCormack says. Built-ins and extra coat or linen closets help tame the clutter and make finding necessities a breeze.
3. Location, Location, Location: A beautiful home in a shady neighborhood isn't going to cut it. Female homebuyers look at all features of a new home's community before buying. This includes proximity to work and amenities, crime rate, security, reputation of school district and traffic patterns. Many female buyers are drawn to Advantage's award-winning Frederick County new homes at Brunswick Crossing because of the community's curb appeal, amenities and proximity to Washington, D.C. "Brunswick Crossing offers fun and convenience close to home," McCormack says. "There's plenty to see and do here, and homeowners feel as if this is a safe neighborhood to raise a family."
4. A Place to Relax: At the end of the day, female buyers want a quiet place to de-stress and unwind. A large master bath usually fits that bill. McCormack says, "Female homebuyers are always thrilled to see the size of Advantage's master bathrooms — and the Jacuzzi soaking tubs with optional Whirlpool jets." The master bath is all about pampering, and "every female homeowner needs a spot to indulge in at the end of the day, plus a master bath adds value to the home," McCormack adds.
5. Space for Socializing: When women tour a potential property, they're looking for a comfortable environment with enough room for friends and family. "Our new homes MD designs feature spacious living rooms, sun rooms, finished basements and rear decks that provide extra space for entertaining, social gatherings and privacy," McCormack says. Advantage Homes' open floor plans mean more living space and better traffic flow between the couch and the kitchen. Plus, moms can cook and do other household duties while safely watching their kids play in the same room.
About Advantage Homes:
Advantage Homes is an award-winning, custom homebuilder with a 98% customer satisfaction rating. A commitment to crafting extraordinary homes of quality design and construction underlies the Maryland builders' dedication to customer satisfaction. Honesty, integrity and professionalism guide Advantage Homes as they strive to delight homebuyers with the finest quality new homes in Maryland.