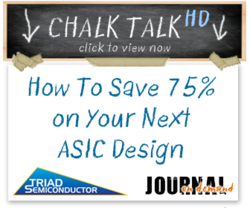 Triad Semi's mission is to be the Zero NRE mixed-signal ASIC provider
Winston-Salem, N.C. (PRWEB) May 06, 2013
In this first of a three part series, Amelia Dalton of the EE Journal interviews Triad Semiconductor's Reid Wender about how to make mixed signal application specific integrated circuit (ASIC) development affordable, fast, and easy. Amelia is the host of the popular ChalkTalk webcast series over at the EE Journal website. In this first episode, Dalton and Wender explore why traditional custom IC development is just too expensive for most design teams and how these costs can be reduced. The ChalkTalk provides:

An introduction to Triad Semiconductor, http://www.triadsemi.com
The cost, time, and risk problems of traditional ASIC methods
Introduction to Triad's patented Via Configurable Array (VCA) technology
How VCA technology can reduce custom ASIC development costs by 75%
How to work with Triad on custom mixed-signal chip design
Briefly introduces ViaDesigner™ EDA software that will be discussed in later webcasts in the ChalkTalk series
(watch the How to Save 75% on Your Next Mixed Signal ASIC Design webcast)
"Triad's mission is to be the Zero NRE mixed-signal ASIC provider" stated Reid Wender, VP of Marketing at Triad Semiconductor. "We are the affordable, low-risk option for anyone considering a mixed-signal custom IC and with the introduction of our ViaDesigner™ EDA software we will relentlessly drive custom mixed-signal IC development costs towards zero."
Free 30-day evaluation copies of ViaDesigner are available at ViaDesigner.com.
A ViaDesigner subscription discount is available to viewers of the ChalkTalk webcast at the EE Journal website.
About ViaDesigner.com
ViaDesigner.com is the website community of ViaDesigner, Inc. Founded in 2012 and headquartered in Winston-Salem, NC ViaDesigner, Inc. is focused on driving down the cost of mixed signal chip design. ViaDesigner, Inc. is a wholly-owned subsidiary of Triad Semiconductor, Inc., http://www.TriadSemi.com, the world's leading supplier of via-configurable array (VCA) technology. Triad is a fabless supplier of ViaASIC mixed-signal IC solutions to the defense, aerospace, industrial, medical, automotive and consumer markets.
Via Configurable Array Technology
Triad is a fabless semiconductor company and leading supplier of configurable mixed signal integrated circuits (ICs). Triad utilizes patented via configurable array (VCA) technology that reduces custom IC development costs by 75% or more and allows for designers to go from project kickoff to working silicon in as little as 3 to 6 months. VCA technology only requires a single semiconductor mask change (the via mask) to configure and interconnect any analog or digital resource. Single via mask configuration means design re-spins or derivative designs can be taped out, fabricated, packaged, tested and delivered to customers in four weeks. This compares to the project-killing four to six month delays that can occur with full custom chip design.
About Triad Semiconductor
Triad Semiconductor is on a mission to make mixed signal IC design fast, easy and affordable. Founded in 2002, Triad is a trusted supplier of configurable mixed signal ASIC solutions to the defense, aerospace, medical, industrial, commercial and automotive markets. Triad was recognized in 2012 as one of Inc. Magazine's 500 Fastest Growing Private Companies. Triad is an ISO9001:2008 certified company. Triad is ITAR-certified and supports a fully ITAR-certified supply chain for defense applications.