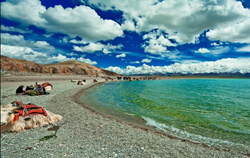 (PRWEB) May 18, 2013
Explore Tibet, a Lhasa-based Tibet tour company, is offering a 10-day trekking adventure in Tsurpu valley.
"This is one of the best trekking tours in Tibet, balancing both cultural and wilderness experiences," Explore Tibet have said.
Travellers will spend two days visiting prominent religious and historical sites in Tibet's capital, Lhasa, followed by four days trekking in the isolated Tsurpu valley.
"Trekking in the remote nomadic region, through the peaceful and beautiful nature of the Tibetan high plateau, is a superb experience," Explore Tibet have said. "Camping next to the nomads' villages and nunneries gives you more opportunities to experience and learn their culture and daily lifestyle.
"Spectacular mountain panoramas and photogenic nomadic villages distinguish the tour as a combination of culture and wilderness," the tour company said.
At the end of the trek, travelers will spend a night visiting Namtso Lake, one of the largest lakes in the Tibetan Autonomous region. Namtso is renowned as one of the most beautiful places in the Nyainqêntanglha mountain range. Its cave hermitages have for centuries been the destination of Tibetan pilgrims.
"Visitors will enjoy the breathtaking view of Namtso lake surrounded by snowcapped Thangula range in the north and Nyenchen Thangla in the east," Explore Tibet have said.
Explore Tibet is a locally-owned travel agency committed to responsible tourism, Tibetan travel permit and Everest base camp trek.