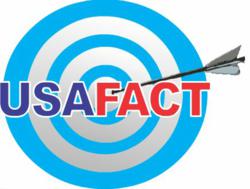 . . . Faster vendor Integrations within the entire hiring pipeline . . .
Golden, CO (PRWEB) May 08, 2013
In a statement released to their Background Screening and Drug Testing Departments Monday morning, USAFact's CEO, Matt Davidson, praised his company and staff for a banner 1st Quarter. USAFact, a mid-sized Employment Screening provider that serves HR solutions to businesses across the country, has truly been experiencing the benefits linked to having a defined mission of success. While the company continues to specialize in Criminal Records and Resume Verification Services for the HR industry, USAFact has expanded its enhanced technology focus to include faster vendor integrations within the entire hiring pipeline, including expanded Drug Testing services, WOTC Hiring Tax Credit Surveys, Employee Assessments, and a new National Fingerprinting Network.
"While April proved to be a challenging month of tremendous tech change around our offices, and while Client Care, Technology, and Operations Departments had to pull in many extra hours to absorb the effects of bringing all systems back online after a major Data-Center Migration and general systems overhaul, I am pleased to announce that we've posted an average Gross Revenue Gain of 22% across Q1, and a 28% Gross Revenue Gain in April." Matt went on to say, "Because of these advances, and making the choice to overhaul all of our internal systems early this year, we are already moving forward with an average net profitability improvement of 140% over the same time period in 2012 . . and are now poised to take on even more with May 2013 expansions in our Client Care Department ."
Earlier in Q1, USAFact was honored by Riverside, California's Pro Tem Mayor Andy Melendrez at a Riverside City Council Meeting as the council's Economic Success Story selection. USAFact received the commendation at Riverside's City Hall on March 12, 2013. Additional honors were bestowed upon USAFact's CEO in April, when he was asked to join the Customer Advisory Board for SUGARCRM, the world's fastest growing CRM System. As such, Matt Davidson presented a program that maps out the successful expansion of seamless SFA and CRM solutions across Sales, Client Care, Operations, Billing, Dispute Resolution, and Technology for any sized company. Much of USAFact's continued recognition and persistent growth continues to center around the company's dedication to accuracy, efficiency, and customer service.
Subsequent press releases are due to follow soon, as the company has reopened a new round of hiring in both California and Colorado, with office expansion plans slated for Q3 at the company's California Operations Center.
About USAFact, Inc.
For over 35 years, USAFact has been recognized as the hiring solution provider with the most accurate, up to date, and thorough background screens in the industry. As a leading online pre-employment screening service, USAFact combines the latest Internet technologies with an experienced professional staff to deliver a proven resource to thousands of clients, processing thousands of reports daily. Offering a variety of screening packages for businesses of any size, from the small non-profit to Fortune 500, USAFact provides services custom-tailored to their individual needs. For additional information on USAFact's products and services please visit http://www.usafact.com, or call 1(800) 547.0263.