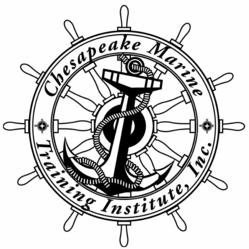 Gloucester, Va. (PRWEB) May 06, 2013
Chesapeake Marine Training Institute released its June 2013 professional mariner training schedule, which includes courses ranging from preparation for licensed Captain's to upgrade to a Master level and elementary first aid and CPR.
Marine students can register online for the following June courses:
Mon, Jun 3 Radar Observer - Unlimited
Mon, Jun 3 Combined Basic and Advanced Firefighting
Mon, Jun 10 STCW Basic Safety Training
Mon, Jun 10 STCW Basic Fire Prevention and Firefighting
Wed, Jun 12 STCW Personal Safety and Social Responsibilities
Wed, Jun 12 STCW Personal Survival Techniques
Wed, Jun 12 Global Maritime Distress and Safety System(GMDSS)
Fri, Jun 14 STCW Elementary First Aid and CPR
Fri, Jun 14 Radar Observer Recertification
Mon, Jun 17 Upgrade, Master 100 GRT to Master 200 GRT
Mon, Jun 17 Able Seaman with Lifeboatman
Mon, Jun 17 Able Seaman
Tue, Jun 18 Medical Care Provider
Tue, Jun 25 Survival Craft (Limited)
Wed, Jun 26 Apprentice Mate (Steersman) of Uninspected Towing Vessels
Fri, Jun 28 STCW Elementary First Aid and CPR
Fri, Jun 28 Radar Observer Recertification
Chesapeake Marine Training Institute courses are also available for presentation at another location as part of their on-site training program.
Mariners who don't see a course that they need during the time they are in port should call Chesapeake Marine Training Institute at 800-642-CMTI and inquire about adding an additional course to the schedule.
Professional mariners preparing to sit for a U.S. Coast Guard exam to receive their deck officer or engineering licenses can now also enroll in a home study program through Chesapeake Marine Training Institute.
The 500/1600 Master/Mate Inland or Near Coastal program prepares mariners to earn their license as a deck officer serving as Master or Mate on vessels not exceeding 500 or 1600 gross registered tons and operating within inland or near coastal waters. The course includes, among other topics, navigation and plotting, safety and rules of the road. This deck officer home study course is available for $1495.
Students who purchase this deck officer home study program will receive one week of exam preparation at the Chesapeake Marine Training Institute campus in Virginia.
The Qualified Member of the Engine Department (QMED) courses are available with one endorsement, all endorsements, Chief Engineer, Assistant Engineer and Designated Duty Engineer.
Endorsements are specifications of what job the mariner is licensed to perform. The QMED home study programs range in cost from $650 to $1095. Endorsements include oiler, refrigerating engineer, deck engineer, fireman, junior engineer, electrician, machinist, pumpman, deck engine mechanic and engineman.
Students who purchase any Chesapeake Marine Training Institute home study programs will receive access to a toll free phone number to talk directly with one of the experienced marine instructors.
Once students complete their home study program, they must take their test at a U.S. Coast Guard Regional Examination Center.
Chesapeake Marine Training Institute will mail all course materials – including everything from textbooks, charts and parallel rules to pen, pencil and eraser. Shipping is $35.
Contact Chesapeake Marine Training Institute directly to purchase a home study program at 800-642-CMTI. Visit the web site at http://www.chesapeakemarineinst.com to register online for upcoming courses on campus.
ABOUT CHESAPEAKE MARINE TRAINING INSTITUTE: Established in 1992, Chesapeake Marine Training Institute (CMTI) – a service disabled, Vietnam era veteran owned business – provides professional marine educational services to military and civilian mariners. While its modern classrooms and outdoor training area is located on George Washington Memorial Highway near Gloucester Point in Hayes, CMTI proudly also offers on-site training and home study programs.
In 2002, Marine Log magazine called CMTI one of the top maritime educational, recruitment and training resources in the nation.
Its instructors are seasoned mariners, holding a current U.S. Coast Guard License as Master with a minimum of five years at sea experience. CMTI's staff also includes License Consultants trained by the Coast Guard's National Maritime Center as Mariner Credentialing Agents. These agents serve as experts to help each mariner sail smoothly through their licensing application process.
Learn more about Chesapeake Marine Training Institute at http://www.chesapeakemarineinst.com or call 800-642-CMTI.