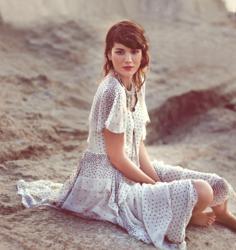 Philadelphia, PA (PRWEB) May 06, 2013
Today, specialty clothing brand, Free People, officially launches the second part in their critically acclaimed short film series, Roshambo. The series is a heartfelt account of two lovers, played by Christopher Abbott and Sheila Marquez, in a developing relationship filled with heartache. Part two titled, "Roshambo: Rock", takes place in the beautiful city of Rio de Janeiro and introduces Spanish polo player, Diego Osorio as an alluring love interest. Set to the tune of "July" by Youth Lagoon, the film is a much anticipated follow up to the first video released this past February (see it HERE). Roshambo: Rock is part of Free People's first ever short film series that is slated to launch throughout the year.
Roshambo: Rock Synopsis:
In Roshambo: Rock, we go back in time to uncover a piece in Sheila and Chris's relationship history before they were reunited so serendipitously on a street in New York. At this point in time, Sheila and Chris have just parted ways, and she finds her world crumbling down. To get him off of her mind, her best friends, played by Michele Ouellet and Britt Maren, swoop in and whisk her away to Rio de Janeiro. The three beauties wander the city, throw on electric bikinis to hit the water, and dance the night away when a Spanish love interest, played by polo player, Diego Osorio, makes his way into picture…
Watch Roshambo: Rock HERE.
Catalog Credits:
Models: Michele Ouellet, Sheila Marquez, and Britt Maren
Photographer: Guy Aroch
Hair: Amy Farid
Makeup: Deanna Hagan
Video Credits:
Director(s): Guy Aroch and Jonathan Doe
Director of Photography: Carlos Veron
Creative Director(s): Free People and Brody Baker for Starworks Group
Concept By: Free People
Producer: Starworks Group
Associate Producer: Connor Doherty for Starworks Group
Post Production Co: The Mill
Editor: Ryan McKenna
Colorist: Damien Van Der Cruyssen
Producer: Carl Walters
Actors: Sheila Marquez, Britt Maren, Michele Ouellet, Christopher Abbott, Diego Osorio
###
About Free People
Free People is a specialty clothing brand featuring the latest trends and vintage collections for women who live free through fashion, art, music, and travel. The bohemian look consists of quality apparel, shoes, and accessories that invoke attributes of femininity, spirit, and creativity with its design. Free People is distributed globally via direct channels, including the Free People US site and Free People UK site, as well as specialty boutiques, top department stores, and the brand's own free standing retail locations in the U.S. and Canada.