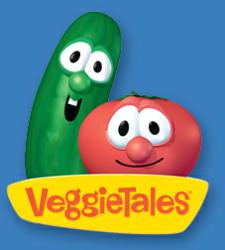 (PRWEB) May 06, 2013
It's a "VeggieTales" mini-marathon on Trinity Broadcasting Network, America's premier faith and family channel, and the Smile of a Child kid's network. That's right! Everyone's favorite talking vegetables are on tap for two weekends of grins and giggles, so kids of all ages are invited to bring mom, dad, grandparents, and other fun-loving grown-ups for a pair of crazy Saturday "VeggieTales" TV cartoon excursions, May 11 and 18.
For nearly twenty years Bob the Tomato, Larry the Cucumber, and the rest of the "VeggieTales" gang have been entertaining kids while teaching kindness, honesty, and other crucial life values. Now, moms and dads who grew up with this zany crew of cartoon vegetables are introducing their own kids to VeggieTales' engaging stories, award-winning animation, and unforgettable "Silly Songs" that pack great life-impacting messages.
"We've gotten a ton of calls from parents who loved 'VeggieTales' when they were kids, thanking us for bringing them back for their children and asking for more," said Brenda Rossman, Smile of a Child's program director. "We've built up quite a library of great cartoons, movies, and other programs for the whole family, and we love getting them on the air for everyone to enjoy."
Everyone has his or her own special "VeggieTales" episode, like "Princess and the Popsstar," "Larry Boy and the Bad Apple" — and one of the all-time most requested, "If I Sang a Silly Song." With sun-up to sun-down "VeggieTales" it's certain no one's favorite will be left out of these two great Saturday cartoon escapes.
"We're thrilled to air these kinds of award-winning shows on TBN, Smile of a Child, and our other faith and family networks," said TBN Vice President Matt Crouch. "Our mission has always been to offer a wide variety of programming that nurtures, inspires, educates, and entertains. That's what has made us the leader in Christian television for the past 40 years, and it's what motivates us each and every day."
Catch the Smile of a Child "VeggieTales" Mini-Marathon on two great Saturdays, May 11 and 18, from 7 a.m. to 7 p.m. Pacific (9 a.m. to 9 p.m. Central, 10 a.m. to 10 p.m. Eastern). TBN will broadcast the "VeggieTales" Mini-Marathon on May 11 from 2:30 a.m. to 1:30 p.m Pacific (4:30 a.m. to 3:30 p.m. Central, 5:30 a.m. to 4:30 p.m. Eastern), and on May 18 from 2 a.m. to 1:30 p.m. Pacific (4 a.m. to 3:30 p.m. Central, 5 a.m. to 4:30 p.m. Eastern). Regularly scheduled Saturday programming will resume on Smile of a Child and TBN on May 25.
To find out more about TBN, Smile of a Child, and the other members Trinity Broadcasting Family of Networks, log on to http://www.tbn.org.