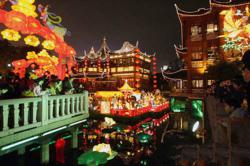 Denver, CO (PRWEB) May 06, 2013
Marilyn Hickey, leading Christian educator, announces the Marilyn Hickey Ministries' Trip to China this May. Marilyn Hickey will take a group of more than 100 travelers on a ministry trip to China, May 8-20, 2013.
This will be Marilyn's 34th visit to China, where she will be ministering to seminary students and Christians at government-approved churches in three cities: Guangzhou, Shanghai, and Hangzhou. In addition to ministering to the Christian population in China, the group is eager to be immersed in Chinese culture. They will visit the Bund, a historic waterfront area of Shanghai, the famous Yu Garden and embark on a scenic cruise down the Yangtze River from Chongquing to Yichang through the Three Gorges Dam. The Yangtze is the longest river in China and one of the most majestic rivers in the world. The group will also have the opportunity to visit the Chen Ancestral Temple and Sunzhongshan Memorial Hall, as well as many different colorful marketplaces along the way.
Marilyn Hickey is a devout ministry leader who has dedicated more than 40 years of her life to spreading the Word of God. Marilyn has traveled to more than 120 different countries holding a staggering amount of international meetings and group tours. Her television program, Today with Marilyn and Sarah, is broadcast in more than 130 countries. In 2012, Marilyn held Pakistan's largest ever religious gathering with more than 400,000 attendees.
For more information about this trip and other Marilyn Hickey Ministries opportunities, visit http://www.marilynandsarah.org/events/calendar/.
About Marilyn Hickey Ministries:
For more than four decades, Marilyn Hickey has made it her mission to bring people into a relationship with Jesus Christ. Her international organization Marilyn Hickey Ministries sends a clear message of love, hope and healing to people around the world through Bible teaching, international healing meetings, group ministry tours, pastors' and leaders' conferences, humanitarian efforts, and the daily television program, Today with Marilyn and Sarah. To learn more call (888)-637-4545 or email traveldesk(at)mhmin(dot)org.