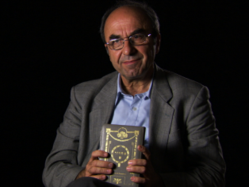 He respects being involved in films... that becomes part of the DNA of the company.
Arlington, Virginia (PRWEB) May 07, 2013
While besa is often translated from Albanian to English as "faith" or "trust," the word's true meaning is closer to "to keep the promise*." It is an idea so intertwined with honor and personal responsibility in Albanian culture that to break a besa is to be utterly disgraced. Over the past eight years, photographer Norman Gershman, Director Rachel Goslins, Producer Jason Williams and the production team at JWM Productions, LLC have fought to bring the extraordinary story of one family's besa to life on screen. Henninger Media Services provided post-production services for the film. The project has been long in the making, but the resulting film is now gaining momentum in film festivals across the country, garnering awards and recognition along the way. The film's most recent honor was to be honored for "Best Documentary" at the Seattle Jewish Film Festival.
Eight years ago, Gershman had just returned from his second trip to Albania to photograph Muslim rescuers and their families when he reached out to Jason Williams, the co-founder of JWM. Gershman, a Jewish-American photographer, had been working on what would become a book of portraits of Righteous Albanians, "BESA: Muslims Who Saved Jews in WWII," published in 2008. His subject matter was remarkable. Albania was the only country to see its Jewish population expand during World War II, and one of only two whose governments actively aided their citizens in hiding Jews during the conflict. Many Albanians—a whether Orthodox, Catholic, or Muslim—played a role in saving Jews, but the stories of Muslim families stood out as unique. Gershman thought there might be a documentary project in the story, and Williams agreed.
Central to the film was Rexhep Hoxha, a Muslim Albanian toy store owner whose father had sheltered a Jewish family, the Aladjems, from the Nazis for 14 months during World War II. Upon leaving, the Aladjems entrusted three Hebrew prayer books to Hoxha's father, but never returned for them. The Hoxha family kept the books safe for years, continuing to hide them throughout the Soviet era when owning such items was dangerous. Rexhep Hoxha's efforts to return the books to the Aladjem family, thus fulfilling his father's besa, began in earnest with the fall of communism.
Said Williams, "We had found this incredible untold story and we knew it had to be filmed. But how were we going to fund it?" First to step up with financing was Stephen Spielberg's Righteous Persons Foundation, followed by Prince Alwaleed bin Talal's Kingdom Foundation, now known as the Alwaleed Foundation. With those grants in place they did their first ten days of exploratory filming. That footage turned into a 12-minute reel that they were able take to other philanthropic groups, and from there they were able to secure funds for additional photography. Thematically, they held out hope for the possibility that their key character (Rexhep Hoxha) might be able to find the Aladjem family and return the books, but they knew it was a very long shot indeed.
"We enlisted researchers and investigators, searching three continents and five different countries looking for the family," said Williams. And, finally, they did find the family—in Israel. At that point the filmmakers' focus moved from documenting history to being present for the story's conclusion, one that would prove shocking, touching and deeply emotional.
Even with a complete story to tell, there were other hurdles to cross. They needed to illustrate the Nazi's occupation of Albania, but soon learned that very few archival materials exist. The filmmakers spent three years gathering mementos, memorabilia, clothing, passports, and visas of people who had fled from, or survived, the Nazi occupation of the Balkans. They then built animated sequences using the items they had acquired. The sequences serve as a unique way to cover the gaps in the historical record that simply could not be covered by traditional archival materials.
As their quest for funding continued, the National Endowment for the Humanities (NEH) stepped in with the largest single grant to a filmmaker in 2010…over $500,000. Every penny went into the film, most notably to commission an original score by Phillip Glass, the animation work by Percolate Digital, and a massive re-edit. (Next to the NEH, JWM remains the largest single financial contributor to the film.)
According to the filmmakers, the years of effort were worth it. Said Williams, "The finished film is something of a jewel. It's immensely accurate, and unbelievably human. It's the story of two damaged families negotiating their way back toward each other." The film has been shown in 25 festivals, with more scheduled in the coming months. "The film is the only thing out there that documents and shows Muslims, in their own words, not only stating that the Holocaust happened, but explaining that right-thinking people were able to do something about it," explained Williams. With so little written history of these events, the filmmakers felt a special responsibility to get each and every fact right.
Known for producing television series and specials, the film is JWM's first and only feature-length documentary to date. Producing an indie documentary posed different challenges than television work. Said Williams, "The story was the client and that's an amazing thing to be able to say. On the flipside, what's great about working with television networks is that they are there for you, they support you with marketing and knowledge, and that is important to the life of a film." In light of the challenges inherent in marketing a serious, intellectually challenging film, the success the film has enjoyed so far has been particularly rewarding.
For finishing of the film, JWM turned to Henninger Media Services, which provided color correction, audio, titling, Blu-Ray, and DVD services. Said Dave Hurley, Senior Sound Engineer, "'Besa' was one of the greatest projects I have ever worked on. What really struck me is that in a world with so much tension and an area of the world with so much conflict and hate, here is a human story that shows that there is hope." Hurley met with Williams early in post production, planning ways to make audio captured over eight years of production work in the final mix and to ensure that the sound effects were all period accurate. Of working with Henninger, Williams said, "We wouldn't go anywhere else." Williams also has a great deal of respect for Henninger's founder and CEO, Rob Henninger, and his personal commitment to the art of filmmaking. Said Williams, "He respects being involved in films of value and he brings that respect with him into the office and that becomes part of the DNA of the company."
Said Williams about the project in general, "It's the little engine that could." The film was originally sent out for festival consideration in the summer of 2012, and is now gaining momentum on the festival circuit. The filmmakers are in serious talks for theatrical distribution and the film has garnered many positive mentions in the press. With any luck, the film will continue to gain momentum, bringing the story of Albania's Muslims and their unique role in saving Jews during World War II to new audiences.
For more information about JWM Productions and "Besa: The promise" visit:
http://jwmprods.com/
http://www.besathepromise.com/
https://www.facebook.com/BesaThePromise
About Henninger Media Services:
Celebrating 30 years in the industry, Henninger Media Services (HMS) provides video editing, audio, graphics, Blu-ray and DVD authoring, telecine, QC, duplication and distribution solutions to a diverse client base; including broadcast, corporate, advertising, non-profit, and government. Located in Arlington, Virginia, HMS offers services in High Definition, surround sound, 3D convergence and finishing, and film transferring. Complete information about Henninger Media Services may be found at http://www.henninger.com.