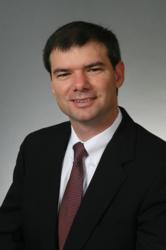 According to Mr. Brent McLaughlin, Executive Director of Branches, "This award is a wonderful acknowledgement of Rod's profound commitment to serve our community through Branches. It is well deserved! It really is a joy and a privilege to work with him."
Miami, FL (PRWEB) May 07, 2013
Branches' Board Chair, Rodney H. Bell, was presented with the Outstanding Board Leader Award last week at the Greater Miami Chamber of Commerce's NOVO Awards Luncheon.
This award honors board members and leaders who demonstrate exemplary leadership and service to the community. The Outstanding Board Leader award also recognizes board members who demonstrate creativity, innovation, passion and entrepreneurship in serving the organization, as well as those that embrace, articulate and further the mission of the organization. In addition, the award focuses on board members who demonstrate a commitment to excellence in effective management, accountability and resource development. Mr. Rodney H. Bell is certainly worthy of this incredible honor.
Rodney H. Bell, a partner at Holland & Knight, is the Branches' current Board Chair and has been on the Board since 2005 and his service began on the Executive Committee of the board. Recognizing his leadership qualities, the board membership nominated him to become Board Chairperson less than 18 months later. Since then, Mr. Bell has demonstrated focused leadership in the way he conducts board meetings, engages with staff, recruits potential donors and board members, and supports Branches events and campaigns. In addition, he has provided strategic level leadership to the Senior Staff enabling the organization to expand its impact throughout the community. When Mr. Bell joined the board, the organization's name was South Florida Urban Ministries. In 2011, Mr. Bell led an effort to rebrand the organization and build consensus among the varied stakeholders. Through his leadership, the rebranding committee was able to unify around 'Branches' and the new brand was launched in early 2013. When Branches launched its Capital Campaign in early 2010, Mr. Bell was one of the first donors to make a major gift to the campaign. In addition, every year, Mr. Bell is the first to commit to being a sponsor of the annual benefit dinner to encourage other board members and community members to support the event as well. Under his tenure as Board Chair, the organization has grown from a $500,000 annual budget to more than a $3 million annual budget.
About Branches
For 40 years, Branches (formerly South Florida Urban Ministries) has made a positive impact in the community by delivering on its mission to serve, educate and inspire people through student, family and financial stability services. Branches provides long-term, holistic services for motivated individuals and families. We help people grow deeper and climb higher in life by building a foundation through education so they can achieve their goals and fulfill their potential. For additional information about Branches, please call 305.442.8306 or visit http://www.branchesfl.org.