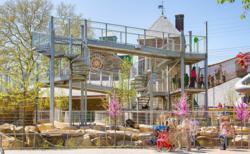 PHILADELPHIA, PA (PRWEB) May 07, 2013
Salter Spiral Stair, a company specializing in spiral stairs for residential, commercial, and industrial designs, recently announced the completion of their project for the Philadelphia Zoo. Salter Spiral Stair worked with zoo architects and contractors for over a year to build the stairs and complete details, which were installed last month. Aside from providing spiral stairs for maintenance workers, the company also provided a number of spiral stairs for some new exhibits at the Philadelphia zoo, including the monkey and goat exhibits.
Aside from designing stairs for animal exhibits, a first for Salter Spiral Stair, another unique aspect of the project includes the fact that many of the one-piece spiral stairs were freestanding at the top, meant only for maintenance use. Typically, spiral stairs have a connection at the top, but these stairs were built in one-piece and supported only at the footer of the bottom. Salter Spiral Stair custom designed the column of the stairs to be inserted into the footer while being poured, using a crane to place the stairs over the column.
"I worked with the architects to help solve this challenging project requirements, which not only included building stairs for animals, but also engineering a number of free standing one piece welded spiral staircases," said Eric Hunter, the original stair designer of the project. "It was definitely a first for me, but overall a great learning experience and I'm glad it turned out so beautifully at the zoo."
The 42-acre zoo is home to more than 1,300 animals, many of which are rare and endangered. The Philadelphia Zoo receives about 1,200,000 visitors each year, and with the help of companies such as Salter Spiral Stair, continues to improve facilities and exhibits for its guests, workers, and of course, animals.
About Salter Spiral Stair: With over 40 years of experience in dealing with spiral stairs, Salter Spiral Stair is a top leader in its industry. Salter Spiral Stair specializes in residential, commercial, and industrial designs and ships coast to coast and as well as international to everyone including homeowners, contractors, governments, and architects.