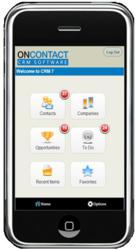 WorkWise is proud to release Oncontact CRM 7.6 with CRM Mobile for iPhone and Android mobile devices.
Menomonee Falls, WI (PRWEB) May 16, 2013
WorkWise, LLC, a leading provider of CRM and ERP software, today released OnContact CRM 7.6 with CRM mobile and enhancements to the HTML Document Setup, Merge Document Setup, and workflow.
"WorkWise is proud to release Oncontact CRM 7.6 with CRM Mobile for iPhone and Android mobile devices. We designed CRM 7.6 to continue to meet the everyday needs of our customers while providing the CRM market with innovative, cost-effective solutions," said Wayne Wedell, President of WorkWise, LLC.
CRM Mobile
OnContact CRM Mobile is the CRM application for iPhone and Android devices. OnContact CRM 7.6 is designed to work in both connected and disconnected modes, and shares the same database as other OnContact CRM products.
The CRM 7 Mobile solution is built with HTML5 and Javascript for multi-platform support. Like other Oncontact products, it incorporates a modular, customizable design. The standard CRM 7 toolkit may be used to alter data elements and the user interface, so changes can be made before and after initial deployment.
Connection to the CRM 7 server exposes the application to web services that manage the bidirectional transfer of data between the Oncontact database and mobile devices.
Several modules are included in the mobile application to work with CRM data, such as Companies, Contacts, and Opportunities. Data may be assigned to devices for initial load, or at any time afterwards. Data created and updated on devices is uploaded to the Oncontact server to maintain synchronization of data. Likewise, changes made to the server database are pushed to the appropriate mobile clients.
Merge Document Setup
Enhancements have been made to Merge Document Setup to simplify the creation and management of merge documents. Setup is now done in a tab based window that offers a wizard style entry of data.
The interface for selecting merge fields has been enhanced. It now includes options to select from a wider range of data sources.
A basic HTML editor is now available for working with email merge documents.
HTML Document Images
HTML document images may now be stored in the CRM database, eliminating the need to store images referenced by email merges on public websites. Images are retrieved by web service calls when emails are opened.
The process of loading HTML documents has been changed to accommodate the option of storing images in the database. When loading an HTML template, you may now extract and import images. An HTML import wizard has been added created to handle this process.
Workflow
CRM 7.6 introduces Sequence-based workflows, a new method of defining workflow using declarative objects and additional runtime value providers. This represents the first in a series of enhancements to the Workflow designer that will allow for the more business logic to be defined without development of any technical scripts. A toolbox for designers is also being developed to handle common tasks, such as assigning variables, looping, defining conditionals, and creating and updating data.
About WorkWise, LLC
WorkWise, LLC provides Customer Relationship Management (CRM) software solutions and Enterprise Resource Planning (ERP) along with comprehensive implementation and support services. Our exclusive offerings, OnContact CRM and RB-ERP® comprise our trademarked Role-Based suite of applications which are engineered and tailored around actual roles found in the workplace. Use of OnContact CRM and RB-ERP software applications enable users to enhance efficiency by performing their jobs in less time with greater accuracy and improved proficiency.
OnContact CRM, which is offered with either a hosted or on premise deployment, is an award-winning, browser-based CRM solution. As a full-featured, customizable application suite that automates the sales, marketing and customer service areas of companies, OnContact CRM has been awarded the TopTenREVIEWS Excellence Award in recognition of its unique design and superior features.
RB-ERP offers make-to-order, repetitive and mixed-mode solutions to manufacturers to shorten cycle times and optimize manufacturing information, supply chain management, and manufacturing execution and planning. RB-ERP enhances operations by taking time out of the business processes and increasing value-add in products and services.
In addition, WorkWise has pre-configured integration between RB-ERP and OnContact CRM, which is unavailable from other ERP and CRM suppliers.
WorkWise is headquartered near Milwaukee, WI and has been inspiring companies to achieve new levels of success for over 30 years. In 2011 and 2012, WorkWise was recognized by the Milwaukee Journal/Sentinel for being a "Top Workplace" and also recognized by The Business Journal for being one the area's "Healthiest Employers" for two consecutive years.