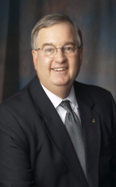 Certified HR professionals can expand their knowledge and collect recertification credits at the June monthly meeting of CCSHRM.
Columbia, S.C. (PRWEB) May 08, 2013
Willis "Trip" Gregory, SPHR, HRfirst™ Practice Leader for The Benefit Company, Inc., will give certified human resources (HR) professionals an opportunity to expand their knowledge and collect recertification credits at the June monthly meeting of the Carolinas Chapter of Society for Human Resource Management (CCSHRM). As the keynote speaker, Trip will present "HR Leadership Competencies for Value-Added Results," which will give HR professionals the chance to brush up on basics, learn new strategies and position themselves for an increasingly complex field.
HR professionals with PHR, SPHR or GPHR credentials must complete 60 credit hours every three years to maintain their credentials, and this presentation will grant 1.25 hours to every person who participates.
The CCSHRM meeting will be held June 19, 11:30 a.m. – 1:15 p.m., at the City Club in Rock Hill, South Carolina. For meeting details, visit http://www.carolinasshrm.org/Calendar_of_Events.php.
About the Speaker
Trip Gregory has more than 35 years in the HR profession and was awarded the 2011 HR Professional of the Year Award by the S.C. Chamber of Commerce. Before joining The Benefit Company, he was Senior Vice President for Human Resources for Palmetto Health, a merger of Richland Memorial Hospital and Baptist Healthcare System of S.C., where he restructured its HR service delivery system to become a nationally recognized model capable of impressive delivery turnaround.
About The Benefit Company, Inc.
The Benefit Company, Inc., is a full-service employee benefits consulting agency based in Columbia, S.C., with a proprietary and unique benefits management solution – BenefitfirstTM– designed for and available exclusively to its clients and its certified benefits partners' clients. Benefitfirst is a robust benefits enrollment and management solution that audits, manages and transmits eligibility for more than 2,500 clients to hundreds of carriers each year throughout the U.S. It combines technology, client services and personalized support to automate and support an employer's entire employee benefits cycle.
Founded in 1991, The Benefit Company offers consulting services and solutions that go well beyond plan design and rate changes. It provides detailed data analytics and cost projections of health care plans combined with highly actionable solutions and measurable results to reduce overall benefit costs and improve accuracy and productivity. For more information, call (803) 750-5781 or visit thebenefitcompany.com.