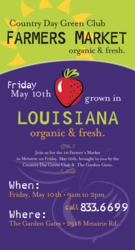 This Farmers Market is open to the public
Metairie, LA (PRWEB) May 08, 2013
On Friday, May 10th, the Metairie Park Country Day School Green Club, together with The Garden Gates, will host the first farmer's market in the city of Metairie. The market will take place at The Garden Gates, which is located at 2918 Metairie Road in Old Metairie. This will also be the first and only farmer's market to take place on a Friday in the New Orleans metro area.
Local farmers, artisans and chefs from around Southeast Louisiana will come together to showcase fresh produce, prepared foods and crafts for sale on Friday morning. This farmer's market will be open from 9am to 2pm on Friday and is open to the public. There will be a play area for children as well.
The Garden Gates is located at 2918 Metairie Road in the heart of Old Metairie. For directions, vendor sign up or more information, please call (504) 833-6699 or visit http://www.thegardengates.com.