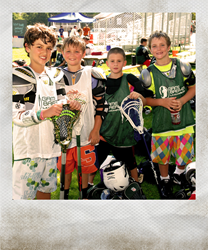 Fairfield, CT (PRWEB) May 07, 2013
Over 5,000 lacrosse players attend these summer lacrosse camps annually to get better, make friends, and have fun. Both overnight and day lacrosse camps are offered throughout the country. Summer lacrosse camps leader GameBreaker Lacrosse has published their 2013 summer lacrosse camp schedule here. With the increased enrollment camps this summer are selling out faster than ever before.
The GameBreaker Lacrosse Camps have a unique balance between instruction and scrimmages at their camps, providing campers with the opportunity to learn new skills while also gaining game-time experience. Princeton University Assistant Coach Greg Raymond, GameBreaker Director for the Avon, CT Overnight Lacrosse Camp, says "Summer lacrosse camp provides a great opportunity to improve a player's individual skills in a learning environment that is both fun and challenging."
Lacrosse is the fastest growing team sport in the country with over 700,000 players currently participating, over half of which are under the age of fifteen (2012 US Lacrosse Participation Survey). Many coaches appreciate the role that camp plays in the development of team members. "Teams are developed in the season, while players are developed in the summer," according to Chris Bulger, the President of GameBreaker Lacrosse Camps. This year, over 100,000 players will attend a summer lacrosse camp for boys or girls.
As the sport of lacrosse has grown, GameBreaker has expanded geographically to accommodate for new players in emerging lacrosse states. "Lacrosse is not longer just an east coast sport," comments Taylor Nissi, GameBreaker's Executive Director. "The national growth of lacrosse has been staggering and we are responding to coaches in these new areas who are in search of the expert coaching that we provide."
Interested prospective campers can learn more about the GameBreaker Advantage and view the 2013 lacrosse camps schedule at http://www.LaxCamps.com.
GameBreaker Lacrosse is a division of eCamps, Inc. eCamps is a nationally recognized provider of summer sports camps. Other camps include the adidas Tennis Camps, Revolution Field Hockey Camps, Revolution Softball Camps, Elite Water Polo Camps, US Wrestling Camps, Fusion Swim Camps and the International Squash Academy.