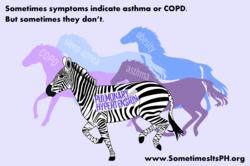 Silver Spring, MD (PRWEB) May 08, 2013
Pulmonary hypertension (PH), a rare and life-threatening lung disease, has gone from rapidly fatal to treatable with nine drugs developed in just the past 20 years, a phenomenal record for a rare condition. Growth in the understanding and treatment of PH reflects the dramatic progress possible since the passage of the Orphan Drug Act 30 years ago, according to the Pulmonary Hypertension Association (PHA), http://www.PHAssociation.org
Progress in PH compares strongly to that of the other 7,000 rare diseases in this country. Only three other conditions have as many treatments as PH or more. Most, in fact, have one or none at all. Whereas physicians treating PH once delivered terminal diagnoses, they now expect their patients to live with their condition. Many patients survive for years – even 10 to 20 years or more – with proper PH treatment.
The development of treatments has also solved one old problem while creating a new one – we are now better able to treat this disease than we are to diagnose it. PHA is running a new campaign, Sometimes it's PH, to promote early diagnosis mainly through educating and information medical professionals. (http://www.SometimesItsPH.org).
Scientific Backstory
The story behind this progress is a fascinating one which has not been told in the mass media. Its roots stretch back to 1970s when a handful of physician-researchers fascinated by the pulmonary vascular system each worked independently in different cities. In the 80s, this group first worked together on building the original PH registry in the U.S. through the National Heart, Lung and Blood Institute. From there, much collaboration and discovery emerged, gaining momentum, and creating a fast-growing segment of medicine treating this disease.
The physician-researchers in the vanguard of making PH treatable -- members of PHA's Scientific Leadership Council -- remain in the field. They will be meeting with other cardiologists and pulmonologists May 19-21 at the American Thoracic Society conference in Philadelphia. The 30 years of the Orphan Drug Act will also be celebrated by the National Organization for Rare Disorders at an event in Washington, D.C., May 14.
PHA can provide information on the history of the Orphan Drug Act, advocacy for rare disease policy and research, interviews with leading physicians and scientists in this field and access to patients who have survived long-term with PH.