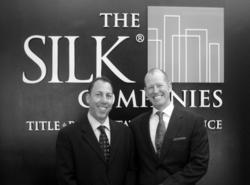 "We're excited to launch this program. In these difficult financial times, we feel fortunate to be in a position to be able to donate to charities and help those in need" —Lance Silver, CEO
Plymouth Meeting, PA (PRWEB) May 23, 2013
Silk® Abstract Company announced today that it has launched a $1 per settlement to charity program. Beginning May 1, the borrower or buyer involved in each and every settlement handled by Silk® will direct that the company donate $1 from the proceeds of the closing to one of three charities. Silk® personnel are instrumental in choosing the charities from which the borrowers/buyers choose. The initial three charities are Habitat for Humanity, March of Dimes and Wounded Warrior, and will likely change periodically.
"We're excited to launch this program. In these difficult financial times, we feel fortunate to be in a position to be able to donate to charities and help those in need. The program also gives many of our team members, who might not otherwise be able to donate, a really positive feeling as a result of having been involved in the choice of charities to which funds are given, and from being a part of a company that donates to charities in hopes of bettering the lives of others," Lance Silver, CEO of Silk®, said.
To learn more about Silk® Abstract Company, visit the Silk® website at http://www.silktitle.com.
About Silk® Abstract Company:
Silk® Abstract Company is a national provider of lender services, such as title insurance, search, REO and settlement services, to the residential and commercial real estate markets. Silk® is affiliated with the law firm Wilk Silver LLC, and is entirely attorney-owned and operated. Wilk Silver LLC combines decades of experience to offer its clients the highest caliber legal services, including loan document defect repair and quality control in connection with the sale of mortgage pools, CEMA reinstatements, COOP lost certificate affidavits, and bank representation work. Although national, Silk® Abstract Company maintains the feel of the company next door with a client-centric approach, offering rapid access to final decision-makers and service with the highest levels of integrity, competence, compliance and customer service. To learn more about Silk®'s services, call 1.866.986.SILK today.