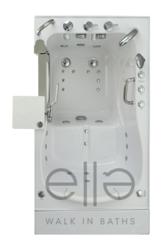 The Ella system is gravity-driven to allow the dual drains to empty a standard size walk in bathtub in about 80 seconds.
Chicago, IL (PRWEB) May 29, 2013
Ella Walk in Baths has been specializing in acrylic walk-in bathtub development, production and distribution for USA and Canadian markets since 2005. Now, in an ongoing effort to assure convenience and safety of their quality walk in tubs, they have designed the dual drain system.
"In our continued mission to deliver the very best walk in tubs for our customers, we've engineered our dual drain system as the best choice for fast and reliable draining," said Laimonis Magone, President of Ella Walk In Baths. "It's about gravity-driven quick draining, which allows our dual drain to empty the standard size walk-in tub in about 80 seconds."
A typical single bath drains slowly as the bather steps out, a process that can take anywhere from 10 to 15 minutes. However, a walk in tub is different and unique because the door has to remain closed until all the water is emptied. There is also an additional problem to consider, the conventional drain does not offer any protection or backup if it should fail. The solution: A dual drain design that speeds up the process by 86%, and completely drains in just over a minute.
The Ella Dual Drain System is designed to drain the bathtub fast and safe by offering the extra two inch drain. This is by far the best drain option in the market, as it allows the bathtub to drain quickly and efficiently without using any electrical pumps. The Dual Drain System has two independent overflows, two 2 inch floor drains operated independently with stainless steel cables to assure reliable and fast exit. For additional peace of mind, both drain openers are equipped with ADA compatible extension handles for people with arthritis or weak hands.
About Ella's Bubbles, LLC
Ella's Bubbles, LLC, (http://ellasbubbles.com) based in Chicago, Illinois, is a nationally distributed OEM manufacturer of acrylic walk in baths and accessible showers. Ella's Bubbles is committed to providing exceptionally manufactured products at a competitive price, while consistently providing quality customer service.
Tory Ruohonen
1-800-480-6850
tory(at)ellasbubbles(dot)com