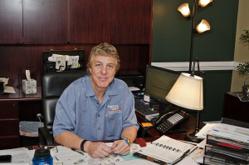 "There is no more serious home defect than a vented dirt crawlspace. They lead to poor energy performance, pest intrusion, dry rot and unhealthy mold growth which can exacerbate allergies and asthma," explains DiGregorio, President of AquaGuard Atlanta.
Atlanta, Georgia (PRWEB) May 16, 2013
Crawl spaces are popular because they are a cheaper alternative to basements or because ground conditions make building a basement impractical, but controlling moisture can be a challenge, depending on the climate zone. A dirt crawl space with an open crawl space vent is a never-ending source of moisture. Even if the dirt's surface seems dry, digging down a few inches reveals moist earth, and this moisture is constantly released into the crawlspace.
Home Energy Magazine, in a recent article, reported that periods of extended heat and humidity can support mold growth and eventually rot wooden structural materials. Years ago, the theory was that crawl spaces would become dryer if they were vented. Now, years later, studies and experience have proven that the most overlooked space in the house needs to have its air and humidity conditioned, just like the rest of the house.
In Atlanta, hot humid summers are a major contributor to crawl space problems according to AquaGuard, a leading basement and foundation contractor. Even vented crawl spaces are suitable environments for mold and wood rot to occur thus creating safety and health issues for home dwellers.
As the warm air rises in the home, it brings with it the air that was previously in the crawl space including moisture and mold spores and anything else that's airborne in the crawl space. As this air rises in the home, replacement air enters from its lowest part, your crawl space, creating a repeated cycle known as the 'stack effect', similar to how chimneys work. Consequently, whatever is in the air at the lowest point eventually flows up into the living sections. In fact, up to 40 percent of the air we breathe on the first floor of our home comes from the crawl space.
Sealing the crawl space from the earth and outside air is the best solution for avoiding moisture in the home and its associated problems. Some contractors and homeowners will simply put down a thin, non-UV-resistant plastic liner, like a six-mil plastic liner. This really has little effect as there's still a lot of opportunity for air to enter from crawl space doors or hatches, crawl space vents, pipe penetrations, porous concrete walls, the hollow cores of blocks, and various other gaps and holes.
According to experts, like AquaGuard, in order to avoid moisture's negative effects, a crawlspace should be completely sealed and isolated from the ground and the humid outside air. A crawlspace vapor barrier system is the typical solution. This involves installing a 20-mil, seven-ply sandwich of high and low-density polyethylene with polyester-cord reinforcement on the dirt floor and is extended, and fastened to the top of the walls. This extra-heavy reinforced lining is treated with an antimicrobial finish that protects against mold and mildew growth under the crawlspace liner. It is tough enough for service people to crawl on and safe enough for storage. In some cases, AquaGuard recommends a high-performance dehumidifier/air filtration unit be added in the crawlspace to assure that humidity levels stay under 50 percent.
An added benefit of having an encapsulated crawl space is that in addition to eliminating mold growth, musty odors, and structural damage, insects and other critters are deprived of a damp environment which many actively seek. Energy costs can also be lowered with a proper system and allergy sufferers due to mold will find better relief. Finally, a properly encapsulated crawl space can mitigate the dangers of radon gas where this is a problem. The best protection against radon gas is afforded when an active ventilation system is added to an encapsulated crawl space.
In conclusion, properly sealing the crawlspace and removing the moisture from the ground and air is part of the solution that helps provide a mold-free and insect-free environment, which leads to a more energy-efficient and healthier home.
For more information about this and other crawl space issues, contact a local qualified contractor. In Atlanta, AquaGuard can be contacted at 1-888.492.6177.
About The Consumers' Choice Award:
Established in 1987, the Consumers' Choice Award® identifies and promotes businesses that deliver customer service excellence. The Consumers' Choice Award® has retained a leading independent research firm to conduct surveys in U.S. cities; Columbus , Atlanta, Dallas, and Houston. The winners are determined by consumers and not by a panel of judges. The survey covers a broad range of categories of interest to both the public and business communities. Its purpose is to publicly identify those establishments that have been voted by consumers as being their choice for excellence. The Consumers' Choice Award® is a most prestigious tribute to local businesses that serve their communities well. The program is encouraged by all levels of government and by business leaders. Find out more about The Consumers' Choice Award by visiting http://www.consumerschoiceaward.com/.