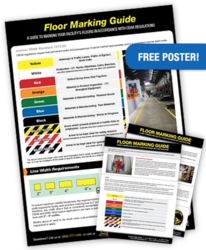 "After learning the color guidelines for floor markings, we don't always remember everything that was taught. The poster really helped with keeping the information up front in our face every day."
Lake Oswego, OR (PRWEB) May 08, 2013
A successful business is one that promotes safety and is OSHA compliant. It is important to properly mark walk ways and aisles in production plants and warehouses. Floors that are marked with appropriate color markings separating pedestrian and forklift traffic pathways will reduce accidents in the work place. Creative Safety Supply is now making it easy to become OSHA compliant with floor markings by offering a Floor Marking Guide and Poster that is available immediately.
The guide will provide everything that a business would need to know about properly marking floors in warehouses, office scenarios, public facilities, and entertainment arenas. Safety in any work or public environment should be considered the top priority for facility owners and managers. Insurance costs and unnecessary accidents can be significantly lowered when proper safety plans are put into place. The guide is one of many tools that will provide assistance with implementing a 5S program and will give guidance for marking floors properly as suggested by OSHA.
The guide is a great solution for training workers and managerial staff about the colors used and what they signify. Once training has been completed, it is a good idea to remind employees of floor color significance by placing the poster strategically throughout the facility. As one worker commented, "After learning the color guidelines for floor markings, we don't always remember everything that was taught. The poster really helped with keeping the information up front in our face every day."
Reducing unnecessary accidents will generate more productivity and in the end will create more profit for a business. Accidents can cost a company millions in compliance-related fines if facilities are not aware of OSHA's mandated color standards. The Floor Marking Guide is everything that a business needs to become OSHA approved.
For more information about the Floor Marking Guide and Poster, please visit http://www.creativesafetysupply.com/Floor-Marking-Guide/ or call toll-free (866)777-1360 to speak with a professional representative.