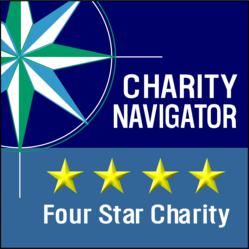 "We didn't get four stars by accident," Neal Newman, Two Ten President.
Waltham, MA (PRWEB) May 06, 2013
The Two Ten Footwear Foundation has retained the prestigious 4-star rating from Charity Navigator for consistently exceeding industry standards and executing its mission in a fiscally responsible way.
"This exceptional designation differentiates Two Ten Footwear Foundation from its peers and demonstrates to the public it is worthy of their trust," says Ken Berger, President and CEO of Charity Navigator.
The award highlights the extraordinary work of Two Ten over the last 16 months to ensure all programs are delivered efficiently and cost-effectively. "We didn't get four stars by accident," said Neal Newman, Two Ten President. "We've been carefully building a high-performance, efficient, accountable and transparent organization that everyone in our footwear industry can take great pride in. We're doing more and reaching more footwear workers than ever before. Congratulations to the fantastic Two Ten team and our world-class Board of Directors, led by Jim Salzano [president of The Clarks Companies, N.A]."
Charity Navigator works to help charitable givers make intelligent giving decisions by providing information on more that five thousand charities nationwide and by evaluating their financial health. Scores are calculated based upon several criteria, including how much is spent per dollar raised, what percentage of funds goes to programs vs. administrative costs and fund-raising expenses, and the organization's long-term financial health. An overview of Two Ten's performance metrics can be found on the organization's Charity Navigator rating page.
About Two Ten Footwear Foundation
Two Ten Footwear Foundation is the charitable foundation of the U.S. footwear industry. Founded in 1939 by dozens of shoepeople who "passed the hat" and collected money every week to help their unemployed colleagues. Today Two Ten is America's only industry-wide charitable foundation that helps our own workforce. In 2012, Two Ten provided $2.5 million in financial assistance and scholarships to footwear families during times of pressing need.
Every dollar raised from the footwear industry goes right back to help shoepeople and their families who are in crisis. Today Two Ten serves thousands of footwear families every year who need emergency financial assistance, confidential counseling, referrals to community-based social services, information about rights and benefits and higher education scholarships. In addition, Two Ten is the footwear industry's unifying force for good, convening sensational networking opportunities, seminars and events, plus an industry-wide community service initiative, Footwear Cares, that brings together thousands of footwear workers from dozens of footwear companies to make a impact their local communities. __title__ Two Ten Charity Navigator rating page.]