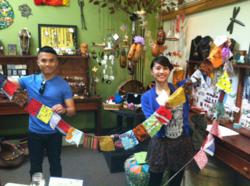 San Luis Obispo, CA (PRWEB) May 06, 2013
HumanKind Fair Trade, a non-profit fair trade store in downtown SLO, will be offering prizes, an interactive art project, live music, and chocolate and coffee tasting at its 982 Monterey Street location in celebration of World Fair Trade Day on Saturday, May 11.
World Fair Trade Day provides an opportunity for consumers to learn more about the fair trade concept so that they will choose to integrate more fair trade purchases into their regular buying habits.
Since opening in July of 2009, the store has provided over $100,000 in income to fair trade cooperatives in the developing world. "Every dollar we spend can be a vote for fair wages, empowered communities, and environmentally sustainable products," says Board President Laura Mullen.
World Fair Trade Day at HumanKind schedule of events:
11am Yerba Mate demo and tasting
12pm Live Sitar Music by Matt Frakes
1pm Life on a Fair Trade Coffee Cooperative in Peru, lecture
1:30pm Fair Trade Coffee Tasting at Bello Mundo Cafe
7:30pm Fair Trade Chocolate and Wine Tasting + Live Music by the Cal Poly Arab Music Ensemble
HumanKind is a non-profit store specializing in fair trade certified merchandise, including clothing, jewelry, home décor, bath and body products, coffee, tea, chocolate, and recently, social justice topic books. In April of 2013 they launched their brand new website, designed by Brant Cebulla who manages local nonprofit The Vitamin D Council, which now features a web store! Also in April, HumanKind started a Social Justice Book Club, which is open to the public.
Fair Trade is an internationally accepted label which means that producers earn a living wage, have a voice in how their business is run, enjoy safe working conditions with no forced child labor, can choose to invest profits in community development projects, and make environmentally sustainable products.
HumanKind Fair Trade
982 Monterey St.
San Luis Obispo, CA 93401
805-594-1229
http://www.humankindslo.org
http://www.facebook.com/humankindfairtrade