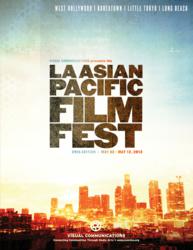 Myx TV is proud to support Asian and Asian Pacific American film and the creative vision of their filmmakers.
San Francisco, CA (PRWEB) May 06, 2013
Myx TV announces its partnership with the 29th edition of the Los Angeles Asian Pacific Film Festival (LAAPFF) presented by Visual Communications that runs from May 2-12, 2013 at the Directors Guild of America, CGV Cinemas in Koreatown, the Tateuchi Democracy Forum in Little Tokyo and the historic Art Theatre of Long Beach. Screening over 140 films from Asian Pacific American and Asian international filmmakers, this partnership highlights the network's vibrant calendar for Asian Pacific American Heritage month, celebrated annually in May.
The festival kicks off with the Los Angeles Premiere of LINSANITY, the 2013 Sundance Film Festival hit that follows the inspirational journey of NBA player Jeremy Lin. Highlight films include titles like JAKE SHIMABUKURU: LIFE ON FOUR STRINGS, WILL YOU STILL LOVE ME TOMORROW?, KEY OF LIFE and notable titles from some of the world's most prestigious film festivals. New media, web-based adaptations of plays, panel discussions with women of film, and the creative advocacy behind PROJECT CATALYST make the festival's 29th edition a remarkable pit stops of the best of film this year.
"Myx TV is proud to support Asian and Asian Pacific American film and the creative vision of their filmmakers," says Miguel Santos, General Manager for Myx TV. "As we celebrate Asian Pacific American Heritage Month, we are thrilled to help showcase these movies for mainstream American audiences to enjoy."
For more information on screening schedules and for ticket purchase, visit http://www.vconline.org/festival.
##
About Myx TV®:
Myx TV is the fastest growing Asian American entertainment network in the United States. Broadcast in over 10 million households, with millions more viewing its programs online, Myx TV is one of the few entertainment brands targeting the broader pan-Asian-American community. The network's award winning programming is a unique combination of original and syndicated shows, including reality, live music performances, animation, and independent film and Asian cinema airing 24/7 in English. To find out more information on Myx TV, visit myx.tv, facebook.com/myxtv and twitter.com/myxtv.
Media Asset:
Los Angeles Asian Pacific Film Festival Trailer: http://www.youtube.com/watch?v=t0wC8JCLe7c