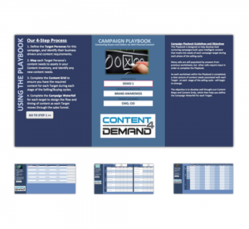 "We use the Content Playbook to build a long-term content strategy that can achieve near-term results."
Hasbrouck Heights, NJ (PRWEB) May 07, 2013
Content4Demand, a division of G3 Communications, will debut its new Campaign Playbook during this week's SiriusDecisions Summit 2013, which will be held May 8-10 in San Diego.
Content4Demand is a Gold Sponsor of the annual SiriusDecisions Summit, which is an invitation-only event where top marketing and sales leaders from Fortune 500 companies and major SMBs share strategies to drive growth.
With content a key part of the agenda at this year's SiriusDecisions Summit, Content4Demand will be providing attendees with a preview of the foundational Campaign Playbook. This new tool, which was created with hands-on feedback from Content4Demand's more than 100 clients, was designed to help marketers better formulate and manage their content campaigns.
The Playbook assists marketers with the following components of campaign planning:

Identifying key triggers, questions and interests of prospects;
Mapping content to different stages of the buying cycle;
Building multi-touch programs using a variety of formats; and
Extending content campaigns across all channels.
"The Playbook builds on the success of complex multi-touch, lead nurturing programs we have constructed with partners large and small," says Andrew Gaffney, President of G3 Communications and Chief Content Architect for Content4Demand. "We use the Playbook to collaborate with our partners to build a long-term content strategy that can achieve near-term results."
Content4Demand has provided consulting and execution services to more than 50 SiriusDecisions clients and applies the principles of buyer stages into the content programs for clients in a number of vertical markets, including health care, financial services and high-tech.
Content4Demand has created hundreds of pieces of content and campaigns over the past 18 months, ranging from white papers, E-books, infographics and videos. The division of G3 Communications has been growing at a triple-digit rate for the past three quarters.
As publisher of Demand Gen Report, G3 Communications and its Content4Demand division is uniquely positioned to create content that is optimized for "top of the funnel" lead generation campaigns, as well as "middle of the funnel" lead nurturing initiatives.
About Content4Demand
With an expertise in publishing content across traditional and emerging channels, Content4Demand specializes develop digitally based content to drive leads and thought leadership.
About G3 Communications
G3 was founded in 2006 to provide customized content solutions for business-focused clients. The company's team of content experts provides unique experience in business publishing, public relations and e-learning and corporate positioning campaigns, with specific expertise in the customer loyalty, e-media, retail and technology sectors. G3 Communications publishes Retail TouchPoints, Demand Gen Report and Channel Marketer Report.