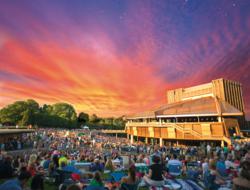 Vienna, Virginia (PRWEB) May 06, 2013
A Prairie Home Companion
with Garrison Keillor
Special Guests: Aoife O'Donovan, Howard Levy, and more
in association with
Minnesota Public Radio & WAMU 88.5 FM
Friday, May 24 at 8 pm
Saturday, May 25 at 5:45 pm
$25-$60
Grammy-winning storyteller, humorist, and host Garrison Keillor is back on the road with the nation's premier live radio show, A Prairie Home Companion (APHC). Now in its 39th season, APHC returns to the Filene Center where Keillor will lead an ensemble cast through comedy sketches and musical interludes, as well as perform his signature monologue, "The News from Lake Wobegon."
This year's special guests include Aoife O'Donovan, a folk singer/songwriter and lead singer of the bluegrass band Crooked Still, and harmonica genius Howard Levy, a Béla Fleck and the Flecktones founding member, among others. Since its inception in 1974, APHC has grown into a household radio variety program that is heard each week by more than 4 million listeners and broadcast in more than 576 public radio stations.
Video: A Prairie Home Companion – "Keep Your Feet on the Ground"
The Mikado
New York Gilbert & Sullivan Players
Friday, May 31 at 8 pm
Saturday, June 1 at 8 pm
$12-$50
New York Gilbert & Sullivan Players (NYGASP) and Artistic Director Albert Bergeret present The Mikado, a timeless comedy about love and political entanglements. Set in Japan, this satirical operetta spins a mythical tale of romantic triangles, blundering officials, and clever coincidences. The Mikado premiered in 1885 at the Savoy Theatre in London and to this day remains the most frequently performed Savoy comic opera.
As America's preeminent professional Gilbert & Sullivan repertory ensemble, NYGASP's performances have become a beloved Wolf Trap annual tradition at the Filene Center since 1995.
Video: The Mikado – Promotional Video
Tickets can be purchased by calling 1 (877) WOLFTRAP or online at http://www.wolftrap.org. For more information, call Wolf Trap at (703) 255-1868.
High-resolution images of the artists listed below are available on Wolf Trap's website: http://www.wolftrap.org/Media_and_Newsroom/Photos_for_Publication.aspx.
Wolf Trap is metro accessible!
Our environmentally friendly Wolf Trap Express Bus travels from the West Falls Church metro stop every 20 minutes starting two hours prior to show time. For details, please visit http://www.wolftrap.org/Plan_Your_Visit/Access_by_Metro.aspx.
###