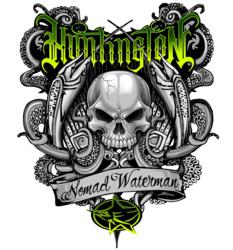 Newport Beach , CA (PRWEB) May 07, 2013
SUP Products LLC announces the addition of Huntington SUP brand to its licensing collection. John Huntington is credited with creating brands including Hart and Huntington, INKED the TV series on A&E and the World Fighting Alliance for the sport of Mixed Marshal Arts (MMA). John's life has now come full circle. Recently returning to his waterman roots and relocating to Thailand, John is most definitely living the true waterman lifestyle. John's waterman past is vast to say the least. He has been surfing since age 6, a competitive swimmer for 18 years, played water polo for 10 years, John has also been a lifeguard and charter boat captain. John Huntington is an accomplished free diver and scuba dive master, and when he is not engaging in some aspect of fishing including Spear fishing, John is designing SUP's.
"In business it's important to work with the best!" says Huntington. "My brands are about style and function. Having my brand manufactured in the USA is equally important to me."
SUP Products is the leader in HMC construction. The Inaugural Huntington SUP manufactured under license is the Huntington Nomad Waterman, co-branded with Marlinstar big game company. The 12.6 Sport Fish SUP, complete with a built-in tackle box, rod holders and ice chest with optional live bait station, positions this SUP to be the ultimate fishing, adventure, tour SUP available on the market. Huntington SUP is presently in design for three additional models to be released this summer.
John Huntington is credited early on for creating such brands as Rubber and Summer of Love in the nightclub industry, in the recent past John created Hart and Huntington tattoo company and Huntington Ink Tattoo lounge. John also starred in his reality series INKED on A & E, the TV series about the tattoo industry as well as creating the World Fighting Alliance for the sport of the mixed martial arts (MMA) .
SUP Products is the leader in HMC Stand Up Paddleboard construction which has produced its HMC SUP Boards and accessories for some of the worlds leading brands including Ohana surf, Lahui Kai, SUP ATX, Clearwater, and Outer Harbor paddleboards. SUP Products brands are distributed through major retailers including Cabela's the worlds foremost outfitter.
For more information please contact
Rick O'Leary
rick(at)supproducts(dot)com