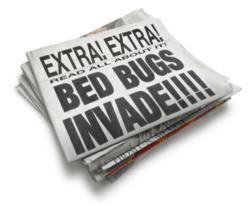 Salt Lake City, Utah (PRWEB) May 09, 2013
With travel on the rise, both internationally and domestically, bed bugs in the US are at levels not seen since before WWII. In a recent post, PestWorld.com stated, 95 percent of U.S. based professional pest management companies have encountered a bed bug infestation in the past year—and the resurgence is growing.
Before 1972, bed bugs were all but eradicated by the powerful pesticide DDT, which killed nearly every species of insect on contact. But when the substance proved to be an overall health risk for the environment, it was banned and removed from the market. Following the ban, methods of pest control became more targeted to individual species and focused primary on pests such as, spiders, ants and cockroaches. Bed bugs, not being one of the targeted species, have been able to flourish undetected for years.
Just mention the words "Bed Bugs" to hotel owners in any major US city and watch closely for their reaction. The topic is like poison as pest control issues can wreak havoc on press relations and are not an easy problem to solve. With spring here and summer on the way, everyone is bracing for the highest travel time of the year and without a proper bed bug solution in place, travel will continue to the be the culprit as bed bugs stow away on passengers going from place to place.
Most hotel accommodations do their best to keep their sleeping environments clean and free from bed bug infestation. Unfortunately, they simply do not have the ability to screen every guest or stop every infected visitor from entering their premises and bringing the pests with them.
Bug Defend, the makers of Bed Defense products recently posted, "Travelers should be weary of any place they visit and should take precautions to safeguard themselves against bed bug encounters." Then went on to say, "there are several very effective travel size protectants on the market that can effectively reduce contact with these pests. If you travel, you should really be protected."
Having recently increased the shelf life of their all natural repellant, Bed Defense is now adding a hand held spray canister to their product line-up. All products are effective in combating bed bugs regardless of environmental conditions or geographic location.
Shipping to clients all across the globe, Bed Defense is a pest control manufacturer producing all natural solutions for the treatment of bed bugs. As the largest online exporter of bed bug products, Bed Defense is now expanding into large retail and hospitality chains. For comments and more information regarding how to handle bed bugs, visit http://www.beddefense.com.