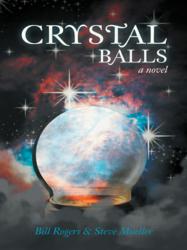 If the characters from Superbad went on a quest for God instead of sex, this novel might have been the result. A buddy caper that is equal parts funny, tender-hearted and absurd. - Patricia Pearson
Toronto, Canada (PRWEB) May 08, 2013
Superbad. The Hangover. And now comes writer and occasional stand-up comedian Bill Rogers' Crystal Balls.
Inspired by his friend and co-author's allegedly psychic abilities, Rogers brings audiences a fun and hilarious addition to the 'buddy picture' genre with the book version of his comedic screenplay.
Crystal Balls tells the story of four friends who unwittingly change their lives forever after making the fateful decision to step out of their ordinary lives and into an extraordinary psychic world.
"Most people I talk to don't believe anyone can be psychic," says Rogers. "And maybe they're right – I can't say for sure. Whatever the case may be, Crystal Balls was written to be an entertaining story of fun and adventure."
For more information, visit http://www.crystalballsbook.com.
Crystal Balls
By Bill Rogers and Steve Mueller
ISBN: 978-1-4759-7239-9
Softcover, retail price: $10.95
Hardcover, retail price: $20.95
E-book price: $3.99
About the author
Bill Rogers obtained his undergraduate degree in music and philosophy at Trinity College, University of Toronto, and his law degree at Queen's, where he garnered several academic distinctions. In addition to his family law practice, he is a music teacher in guitar, vocals and songwriting and has done volunteer music classes at Covenant House in Toronto, working with street-involved youth. He is also an award-winning journalist, with his articles appearing in The Lawyers Weekly, National Post, and The Globe and Mail.
# # #