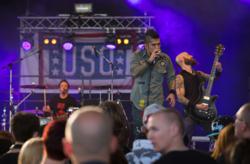 It's a special honor for us as a band to perform for our troops and to let them know that we appreciate their sacrifice... - C.J. Pierce
Arlington, VA (PRWEB) May 06, 2013
Twitter Pitch: @DrowningPool performs for troops at @RAFMildenhall, USAG Ansbach & @USAG_Stutgart on @the_USO tour
Multi-platinum hard rockers Drowning Pool recently announced the dates for their U.S. summer tour. Before they bring their latest collaborations stateside, the band is busy giving troops and military families in Europe a sneak peek at what they've been working on. The hard-hitting rockers kicked-off their USO/Armed Forces Entertainment tour with fist-pumping performances for troops at Royal Air Force Base Mildenhall in the United Kingdom, May 3rd and U.S. Army Garrison Ansbach in Germany, May 5th. The band will wrap up their week-long tour with a third and final performance, May 7th, at U.S. Army Garrison Stuttgart in Germany.
In addition to their USO performances, they will participate in meet and greets, sign autographs and hear first-hand what deployed living is like for our servicemen and women. Drowning Pool is C.J. Pierce, Stevie Benton, Mike Luce and Jasen Moreno.
Details:

This is the third USO tour for Drowning Pool and the first for lead vocalist Jasen Moreno, who joined the multi-platinum band in 2012.
As part of their first USO tour in 2005 and their second in 2006, the band has performed 16 USO concerts and boosted the morale of more than 20,000 troops serving in Kuwait, Iraq and Germany.
On April 3, 2013, Drowning Pool hosted an album release party and invited servicemen and women from their hometown of Dallas, Texas, to attend a private acoustic performance and to celebrate the release of "Resilience," the band's fifth studio album. More than 100 guests attended the event and all proceeds were donated to the USO.
"Resilience" was released April 9, 2013, with "One Finger and a Fist" steadily climbing the Active Rock Charts. The band's previous hits include the 2001 song "Bodies," their No. 2 hit "Feel Like I Do," and the 2009 fan favorite "37 Stitches." Since their formation Drowning Pool has had two consecutive Top 5 Active Rock smashes cementing their place as one of the top hard rock bands in the industry.
Visit http://drowningpool.com/tour.html for complete listing of U.S. summer tour dates.
Quote:
Attributed to C.J. Pierce on behalf of Drowning Pool:
"It's a special honor for us as a band to perform for our troops and to let them know that we appreciate their sacrifice but most importantly we are just happy to be able to put on a stellar performance and give them a show to remember."
Entertainment tours are one of the many ways the USO helps to lift the spirits of our troops and military families and to let them know that the USO is always by their side. In 2012, the USO provided troops with 28 million free phone calls home, entertained some 120,000 military families through the Sesame Street/USO Experience for Military Families tour, supported 35,000 wounded warriors and families through our USO Warrior and Family Center at Fort Belvoir, as well as provided assistance to 3,000 families of the fallen traveling to Dover Air Force Base for the dignified transfer of their loved ones. To find out more about how the USO's programs and services help to enrich the lives of our troops and families, visit us online at http://www.uso.org/AlwaysByTheirSide.
Multimedia:
USO Photos: http://bit.ly/13t1FPa
USO Fact Sheet: http://bit.ly/wrrYmh
# # #
About the USO
The USO lifts the spirits of America's troops and their families millions of times each year at hundreds of places worldwide. We provide a touch of home through centers at airports and military bases in the U.S. and abroad, top quality entertainment and innovative programs and services. We also provide critical support to those who need us most, including forward-deployed troops, military families, wounded warriors and families of the fallen. The USO is a private, non-profit organization, not a government agency. Our programs and services are made possible by the American people, support of our corporate partners and the dedication of our volunteers and staff.
In addition to individual donors and corporate sponsors, the USO is supported by President's Circle Partners: American Airlines, AT&T, Clear Channel, The Coca-Cola Company, jcpenney, Jeep, Kangaroo Express, Kroger, Lowe's, Northrop Grumman Corporation, Procter & Gamble, and TriWest Healthcare Alliance and Worldwide Strategic Partners: BAE Systems, The Boeing Company, Lockheed Martin, Microsoft Corporation and TKS Telepost Kabel-Service Kaiserslautern GmbH & Co. KG. We are also supported through the United Way and Combined Federal Campaign (CFC-11381). To join us in this patriotic mission, and to learn more about the USO, please visit uso.org.