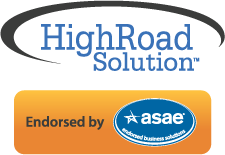 HighRoad Solution was not only the first organization to join our Partner Advantage Program, but they were also the first email marketing solution partner to receive our Gold Star Integration designation for their integration with Personify
Asburn, VA (PRWEB) May 07, 2013
HighRoad Solution, the preferred provider of integrated eMail marketing solutions by top association and non-profit organizations, proudly announces that TMA Resources, the leader in member-centric software, as a Gold Sponsor of its inaugural user group conference. The first-time event will be held on June 6, 2013 in Washington, DC at the American Society of Association Executives' (ASAE) headquarters location.
HighRoad Solution was the first eMail and digital marketing technology solution company to join TMA Resources' Partner Program. The two companies have worked together since 2007 to provide top associations and non-profit organizations with electronic communication solutions including eMail marketing, webinars and voice messaging. HighRoad's Campaign eMail is its most popular product due to the deep integration available with TMA Resources' Personify platform.
"Over the past six years working as a partner with TMA Resources, we have developed a deep appreciation for the Personify platform," explained David Caruso, cofounder and CEO of HighRoad Solution. "We have been able to work together to provide associations and non-profits with eMessaging solutions that are a win-win. Integrating eMail with Personify eliminates redundant tasks for the marketing department and use of Personify's rich member data allows for targeted messages to specific member groups which drives higher conversion to membership, event registration and participation."
"HighRoad Solution was not only the first organization to join our Partner Advantage Program, but they were also the first email marketing solution partner to receive our Gold Star Integration designation for their integration with Personify", said TMA Resources Partnership Manager, Rob Kaighn. "This not only shows the quality of their integration, but also shows HighRoad Solution's commitment to the success of their Personify clients."
About HighRoad Solution
Founded in 2005 by technology industry veterans, HighRoad Solution provides integrated messaging solutions to associations, non-profits and educational institutions. Offering expertise and pre-packaged integrations to the leading association, engagement and content management systems used by premier organizations, HighRoad provides solutions for eMail/eNewsletters, Virtual Events, eSurveys, Fax, Text, Voice & Mobile Broadcasting.
About TMA Resources
Headquartered in Vienna, Va., TMA Resources and its team of highly skilled professionals produce Personify software. Personify combines a powerful technology platform with advanced e-business and BI functionality to provide the Constituent Relationship Management (CRM) and Association Management Software (AMS) solution of choice for some of the world's most advanced professional societies and trade associations.
Contact:
Suzanne Carawan
571.423.6387
scarawan(at)highroadsolution(dot)com