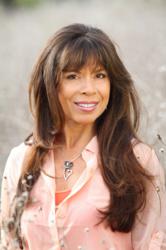 Absolutely wonderful! I was amazed at what she knew, and her delivery was so kind & caring...July 27, 2012 by Annette Smithe, USA
Reno, NV (PRWEB) May 14, 2013
The new psychic medium readings and training website at http://www.MichelleBeltran.com not only provides streamlined scheduling for psychic medium readings by phone, but has included a Blog, which Medium Michelle will use as an education component to provide regular psychic and Mediumship development insights, tips and tools. The Media page features the latest news, publications and newly released spiritual intuitive audio and video recordings. The latest news features Michelle's involvement in an infamous and still unsolved case, which is featured in a well-known magazine and Michelle being voted psychic of the month at Best American Psychics.
The Marketplace features a plethora of products available for purchase online, including a variety of therapeutic grade essential oils, fine art by Nora Pineda, guided meditation CDs designed to enhance your own intuitive and psychic development for beginners, as well as nutritional and wellness products. Pets and children are included in the fun and we've added products for them too!
"It is time to take our web presence to the next level," said Michelle Beltran, trained Medium, Psychic, and Remote Viewer. "This site reflects the down to earth yet professional style of the team at Readings With Michelle, LLC."
Just released and available for free download with the website launch is a 30-minute Clairvoyant Guided Meditation. Due to numerous client requests, Michelle has now made this psychic development for beginners meditation available. The mediation will guide listeners in opening their clairvoyant gifts and can be accessed through the Video/Audio page at MichelleBeltran.com.
Enhancements to the web site include:

Easy navigation to information
An opportunity to interact with Michelle and share your comments
New psychic development courses and tele classes
As a complimentary gift, Michelle's new e-book is available when visitors sign up for our newsletter. The e-book features five tips for psychic and Mediumship development. Please be sure to ask about special session rates with promo code: New Launch.
Take a moment to come check it out!
Warmly,
The RWM Team
About Readings With Michelle, LLC:
Michelle is an innovative spiritual expert bringing forth powerful influential and positive changes on a global level. Her charisma and certainty in reading sessions coupled with her deep seated sincerity invites clients throughout many spectrums of life. Michelle's down-to-earth and open minded style assists her in guiding others to their full life potential. With grace and care, she becomes a game changer for you, helping shape your life in the way that works best for you. Her gift of intuition has served everyday citizens to entrepreneurs, therapists, professional athletes, CEOs and celebrities to housewives and schoolteachers who want to live life fully and capture the life that honors their soul.
Michelle is voted 'A best and most trusted psychic medium' and one of Shay Parker's Best American Psychics. She recently earned Psychic of the Month at Best American Psychics. She is touted for her accuracy, ability to tune in to client situation and provide guidance for their highest good. Visit MichelleBeltran.com for more information or to schedule a session.