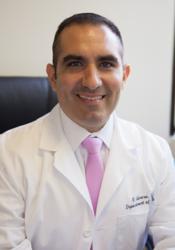 Having a website gives the patient a glimpse into who we are as people, why all of our patients love us, and why we love our patients
Rochester, NY (PRWEB) May 08, 2013
Cosmetic dentist, Oliver Cabrera, has announced the launch of a new, patient-focused website created by dental website design leader, ProSites, Inc. Dr. Cabrera's practice is utilizing the website to educate the community on the importance of oral health. The website includes a links page with informative dental resources as well as a frequently asked questions page to address common concerns on topics ranging from proper flossing to difficult dental procedures.
"Patients can receive a wealth of information about whatever subject they are looking for whether it is cosmetic dentistry, dentures, root canals, crowns, implants, or braces," says Dr. Cabrera. "The best treatment outcomes occur when the patient is most informed. Our patients' treatment always succeeds when we take the time to explain procedures. Educating our patients is our utmost priority."
The website possesses interactive enhancements including educational videos and a Smile Gallery to help patients make better informed decisions about cosmetic dentistry and their overall oral health. Current and prospective patients now have access to information about dental financing, helpful dental links, before and after pictures of dental procedures, and how to get stabilized dentures in Rochester. Some of the services offered by Dr. Cabrera include:
Orthodontics
Cosmetic Dentistry
Oral Surgery
Dental Implants
Root Canal Therapy
The website also utilizes extensive search engine optimization techniques to reach patients and local consumers who are searching for relevant information about getting dental implants in Rochester, NY.
"Having a website gives the patient a glimpse into who we are as people, why all of our patients love us, and why we love our patients," says Dr. Cabrera. "Patients can see the office, staff, and the doctors they will be seeing. This in turn will bring a sense of familiarity and lower stress and anxiety about visiting and ultimately make their visit with us great."
About Oliver Cabrera, DDS:
Dr. Cabrera graduated from the United States Military Academy at West Point and served 6 years as an Armor Officer in the 4th Infantry Division. His military experience laid a foundation for success as he went on to graduate top of his class at Howard University College of Dentistry. He completed advanced training in surgical procedures, IV sedation, and implants at the University of Florida and Rochester General Hospital. Dr. Cabrera concluded Implant Training at the world renowned Misch Institute of Implantology as well as Okeson Oral Facial Pain TMD Mini Residency. Dr. Cabrera is diligent in staying abreast of the most current techniques and believes in practicing evidence based dentistry. Dr. Cabrera treats every aspect of dentistry including restorative, prosthodontics, pedodontics, implantology, endodontics, oral surgery, periodontics, orthodontics, and TMD. His deep sense of compassion and warm chairside manner stems from his intimate relationship with the Lord. He loves dentistry; loves to serve Christ; and hopes his gentleness, care, and treatment can reflect in his work as a Christian dentist. For more information on Dr. Cabrera or Greece Family Dentistry and Implantology, visit the website at greecedentalcare.com.