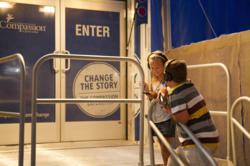 Remarkable — a must-see.
Sacramento, CA (PRWEB) May 06, 2013
Compassion International's Change the Story: The Compassion Experience is making two stops in the Sacramento area in May — in Roseville from May 2-12 and in Placerville from May 17-21. The free tour is making its way across the country to educate visitors about the realities of life in poverty around the world and to provide an international experience to visitors who may not ever have the opportunity to travel to a developing nation.
Change The Story: The Compassion Experience includes 3,100 square feet of exhibit space that features exact replicas of the homes and environments of three Compassion beneficiaries living in Uganda, India or Bolivia. In the twenty minutes the self-guided tour takes to complete, visitors will be immersed in the lives and stories of the children and travel with them from hardship to hope. It is an educational and transformative event for all ages.
The tour will stop at over 35 locations and travel 65,000 miles across the United States this year.
Over 1.4 billion people in the developing world live in extreme poverty, making less than USD$1.25 per day. One in five children (over 9 million per year) dies before the age of five, mostly from preventable causes. Nearly 101 million children worldwide do not attend school. The Compassion Experience allows visitors to experience life under these circumstances first-hand, as well as to see the impact that a sponsor can have on a child's future. Visitors can make a reservation by visiting Compassion.com/change. Groups of 20 or more should email changetour(at)compassion(dot)com to make a reservation. Walk-ins are also accepted.
Compassion International is the world's largest Christian child development organization that permanently releases children from poverty. Founded in 1952, Compassion successfully tackles global poverty one child at a time, serving more than 1 million children in 26 of the world's poorest countries. Recognizing that poverty is more than a lack of money, Compassion works through local churches to holistically address the individual physical, economic, educational and spiritual needs of children—enabling them to thrive, not just survive. Compassion has been awarded eleven consecutive, four-star ratings by Charity Navigator, America's largest charity evaluator.