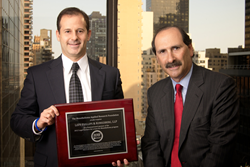 I am proud to be a member of a law firm that for many years has donated and continues to donate money towards mesothelioma research.
New York, NY (PRWEB) May 06, 2013
Today the Wall Street Journal published an article* discussing the topic of charitable donations by law firms representing victims of asbestos diseases to the medical community for research designed to advance the treatment and care of mesothelioma and to identify a cure for the fatal asbestos cancer. The article contains a quote from Jerome H. Block, a partner with the nationally-acclaimed asbestos law firm of Levy Phillips & Konigsberg LLP ("LPK"). The article also discusses LPK's charitable contributions for mesothelioma research to world-renowned mesothelioma researcher Harvey I. Pass, M.D. Mr. Block, who devotes most of his law practice to representing asbestos victims, has achieved the highest ranking for legal skills and ethics, AV Preeminent rating by Martindale-Hubbell**, and has also been selected on the exclusive list of Best Lawyers in America in U.S. News and World Report***, Super Lawyers****, and the National Trial Lawyers Association Top 100****.
Mr. Block issued the following statement about today's Wall Street Journal article: "I am proud to be a member of a law firm that for many years has donated and continues to donate money towards mesothelioma research. My firm, Levy Phillips & Konigsberg, LLP, has seen too many of our clients and their families suffer from mesothelioma, a cancer caused only by asbestos exposure in the United States. We are also proud that our firm has provided significant recoveries to our clients who suffer with mesothelioma, who, in turn, are put in a position to also donate towards mesothelioma research. We would be very happy if the companies that caused this unfortunate legacy of disease in our workers and their families would donate to top mesothelioma researchers and non-profits so that we can find more effective treatments and a cure for this disease. But the companies are not donating these funds. So, if a law firm like LPK, who has witnessed the horrific suffering of our clients and their families for over twenty-five years, does not give money to mesothelioma research, then who will? There are many firms that advertise themselves as "mesothelioma law firms", yet very few have given significant funds to find a cure for the disease. As the article discusses, our firm has donated money to New York University to help fund the ground-breaking mesothelioma research of Harvey I. Pass, MD. Last year, this research money contributed to a landmark study published in the New England Journal of Medicine***** that identified, for the first time, a marker in human blood that may be able to detect mesothelioma at an earlier stage when it might be more treatable. We were gratified to see our firm's name acknowledged for our contribution in that important published article. We have also donated money to the Mesothelioma Applied Research Foundation (MARF) for many years, because MARF is the only non-profit organization in the United States that turns its donations into research grants that are selected by an independent scientific advisory board. In sum, more money is needed for mesothelioma research, not less. Law firms should be encouraged to join our firm in donating money to mesothelioma research. We also invite companies who sold and profited from asbestos products to give money to help cure mesothelioma. It will take resources from all possible sources to ultimately find a cure for the approximately three thousand people that continue to be diagnosed with mesothelioma each year due to past exposures to asbestos products."
Mr. Jerome H. Block, has concentrated his practice primarily on representing people with asbestos-related diseases, such as mesothelioma, since 2001. His firm, Levy Phillips & Konigsberg, LLP, has been representing asbestos victims for more than twenty-five years. The firm was recently named the 2013 Plaintiff's Product Liability Law Firm of the Year by Best Lawyers and U.S. News and World Report******.
LPK has more than twenty highly experienced and skilled asbestos attorneys, who are licensed to practice law in various U.S. states, including New York, New Jersey, Massachusetts, Pennsylvania, Georgia, Florida, Illinois, Missouri, Wisconsin, Texas, California, and Washington. With such resources and long-standing relationships throughout the country, the firm has a truly national reach and has been able to help hundreds of clients from all regions of the United States.
For more information, you may contact LPK's national asbestos hotline at 1-800-637-6529 or visit http://www.levylaw.com.

online.wsj.com/article/SB10001424127887324373204578374963941095622.html
** martindale.com/Jerome-H-Block/1042257-lawyer.htm
*** nymag.com/guides/bestlawyers/12228/
**** superlawyers.com/new-york-metro/lawyer/Jerome-H-Block/200e2905-7a99-471d-911e-e9d20012bc08.html
***** nejm.org/doi/full/10.1056/NEJMoa1115050#t=articleTop
****** bestlawfirms.usnews.com/firms/levy-phillips-konigsberg-llp/overview/32215/